EBAY STORE DESIGN
Get your eBay store professionally branded & designed. Watch your business grow.

We offer
01

Full eBay shop design

Homepage, category pages (present and future), search result pages and up to 5 custom store pages. All designed with your needs in mind.

02

Matching listing template

Use a fully designed template for your listings to stay true to your branding. Showcase multiple product images as thumbnails.

03

Branding options

Custom header design, search box design, image category boxes on the homepage and listing template with promotional banner designs.

04

Navigation options

Links to custom policy pages, filter options by price, size, colour and other navigation options are required.

05

Logo design

Bring your own logo, or we will design one for you!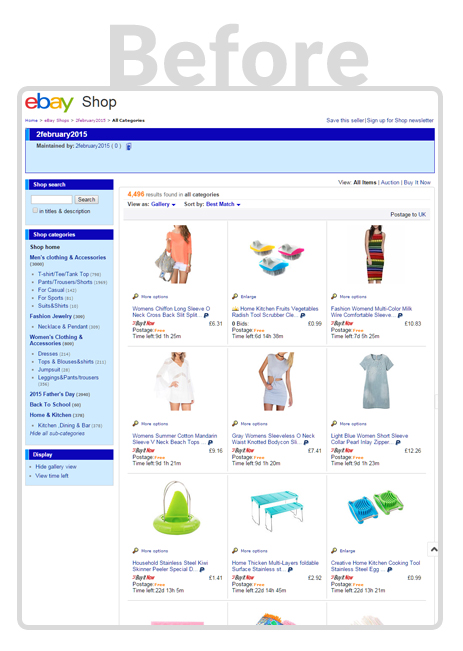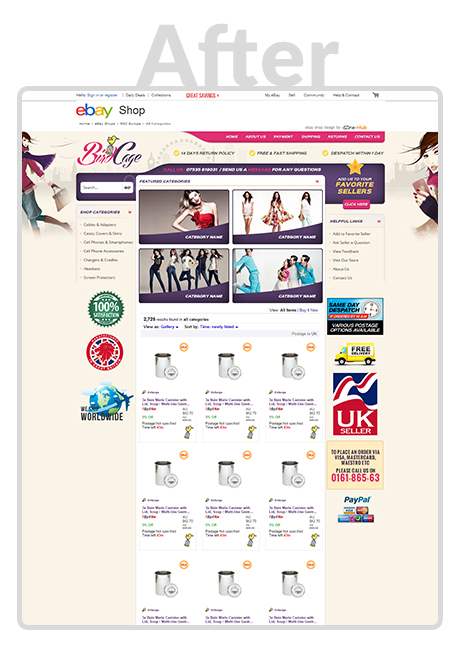 All of this for just£399
And the best part
No recurring fees whatsoever!
Our Process – Let's break it down for you
Tell us your vision

Consider this stage our meet-cute. We'd like to get to know you and understand your business better. Fill out our simple questionnaire and in just 2 days, you will have your first design preview.

Dive in and work with us

We know you will love the design from the start, but life is about revisions and tweaks and we are more than happy to do those for you. In fact, our revisions are unlimited – until you say "stop!".

Hit the big screen

Once you confirm the design as final, we take 3 working days to get the design live on your eBay store. You will also receive a matching listing template to use with the description section of your listings.
Et Voila!
Your store is good to go! But, if you'd like to do things just a little differently, here are some advanced options you can purchase additionally.
01

Rotating Banner Slider

Custom designed banners rotating on the store homepage in a slideshow format. You can use this to display policies, showcase a particular store category or a specific item on your eBay store. This slideshow is compatible with iPad, iPhone and other smartphones.

02

Drop-down Header Menu

This is a drop-down menu that is very convenient for your customers to view your store categories and subcategories without any clicks. It gives the customer the feeling they are dealing with a high-end website, on eBay.

03

Mobile responsive listing template

This would load up your description with the full template when viewed on the computer, and a stripped down, mobile friendly version of the same design when viewed on a mobile phone with your branding & theme, with all your product details in place.

04

Deal of the Day

Showcase one item with a count-down timer across all your store pages, to bring focus to the one item you want to promote the most. Change your deal of the day as often as you like, and drive traffic to your promoted product.

05

Dynamic Categories

This would ensure the list of eBay store categories on your listing template always stays updated. Any additions / removals / modifications you make to your store categories on eBay will automatically reflect on the category list on all your active listings using the dZine-Hub listing template.

06

Best Sellers

Showcase your genuinely best selling items on your eBay store homepage and / or on your listings as a gallery. This would auto-update based on your sales records once every 24 hours, and always display the items that are most popular with your customers on your eBay store.
Compatible with 25+ seller tools






Frequently Asked Questions
Who owns the design at the end of the project?

You do. At the end of the project, you own all copyrights to the design you have custom-built with us, no questions asked.

Do you have a base template that you work off of?

Heavens no! Every single design of ours starts with a blank canvas. There's not too many different things you can do on eBay in terms of layouts, but every store is branded uniquely with us.

Can I change elements of my design in the future?

Of course. All the images that make up the design are stored as separate image files on your server. Any changes you wish to make, you can do this directly by replacing the relevant images on your server. All the HTML code is again stored directly in your eBay account so you can edit this any time you need to. If you need our help, we're happy to help.

What are your support terms?

Once the project is complete, we do not make any changes to your store or listing template as part of the project. Any changes will be charged a nominal service cost depending on the amount of work involved each time. However, any questions you have will always be answered, even if it is a couple of years after the project is complete. We're here for you, and we mean it.
Do you outsource any of your work?

No we don't. All our design and development work is done in house at dZine-Hub, and we get our highs when you're delighted with our work.

Does my eBay store have to go down during the process?

No. Your store remains unaffected. During the installation of the design on your eBay store, there is a brief moment during which the store front would look a bit awry, but it's all sorted before you can say Indiana Jones.

What happens to my existing listings already on my eBay store?

They would remain as they are, and display within the newly designed eBay shop. If you would like the description section of each item to be designed, you do not need to end the items, but rather revise each of your existing items manually and include the HTML designed template we provide you with, each time.

I don't know HTML. Can I still use your listing template?

Relax. 90% of our clients do not know HTML and they still use our templates. You do not need to have HTML knowledge or be tech savvy to be able to use the listing template. We would give you few simple steps to follow, which we assure you isn't rocket science. We hand hold you taking baby steps until you're okay on your own.
eBay stores launched recently
Revamp your eBay store, get started right away!
Have you got any queries at all?
Get in touch with our sales team on 0161-408-3726