EBAY STORE DESIGN, MADE EASY…
dZine-Hub is the new way to get a professional eBay shop design that will multiply your sales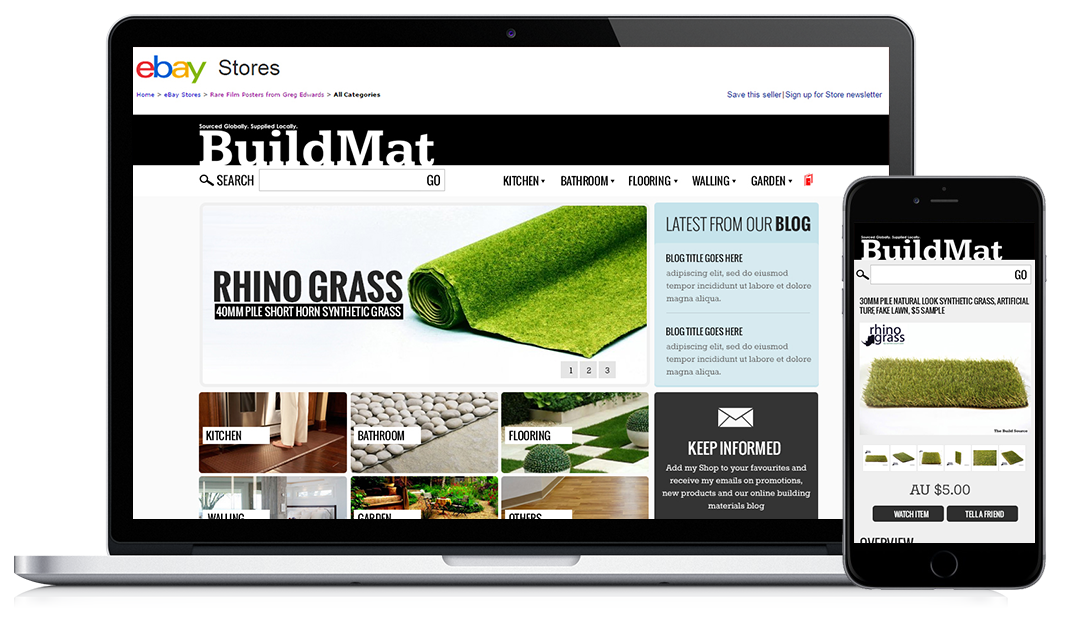 Are you…

Looking to improve the design of your eBay store in order to sell more?

Interested in a design team that specializes in building eBay stores? – choosing the perfect seller tool, knowing eBay's boundaries & compliance policies, etc.

Tired of web design firms that outsource the work?
Do you…

Need experienced designers? (Over 1400 eBay stores designed since 2009)

Want a store custom built from scratch? (rather than off-the-shelf templates)

Prefer to pay once and avoid any ongoing costs?
If your answers to the above are Yes, then you're on the right page
To Build A Successful eBay Store, You Need To:
Attract relevant visitors

Display your products attractively

Make sales
In the next few minutes, we're going to share with you how you can do all of the above, easier, faster and better than ever before.
Back in 2009, dZine-Hub launched and set the benchmark for designing and building eBay stores.
Over 1400 eBay business owners have multiplied their sales and generated millions of dollars in revenue with one of our professional custom designs.
Over the past 7 years we've been in business, the ecommerce marketplace has evolved.
To simplify your success, we create eBay store designs that give you the power to attract and convert visitors to your eBay Store. Now it's possible for anyone, regardless of experience or technical knowledge, to emulate the success of the biggest sellers on eBay.
What Will You Get for £499?
01

Full eBay shop design/ Customization (*2018 Spring Seller Update Compatible)

with the homepage, category pages (present & future), search result pages and up to 5 custom store pages designed.

02

Matching listing template

a designed template to use in the description section of each item that you list and showcase multiple product images as thumbnails.

03

Branding options

Custom header design, search box design, image category boxes on the homepage and listing template with promotional banner designs.

04

All our designs look great on mobiles & tablets

Links to custom policy pages, filter options by price, size, colour and other navigation options as required.

05

It's safe & 100% compliant with eBay's latest policies

Do you have a logo for your brand? If yes, we'll use it on the design. If not, we will come up with one for you.

06

Navigation Options

Let our expert designers work on menus, cross-selling category boxes, etc., to suit your business and improve your brand awareness.

07

Logo Design

Do you have a logo for your brand? If yes, we'll use it on the design. If not, we will come up with one for you.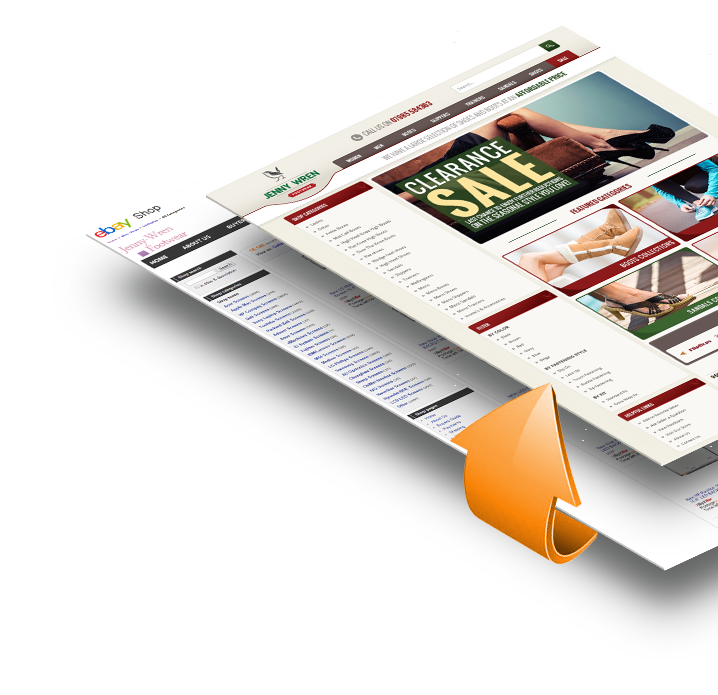 How Does The Process Work?
It's as easy as 1-2-3…
01

Tell us your vision

Nobody knows your business better than you do. We'd like to get to know you and understand your business better. Fill out our simple questionnaire and in just 2 days, you will have your first design preview.

02

Dive in and work with us

We know you will love the design from the start, but life is about revisions and tweaks and we are more than happy to do those for you. In fact, our revisions are unlimited – until you say "stop!"

03

See your vision realized

Once you confirm the design as final, we take 3 working days to get the design live on your eBay store. You will also receive a matching listing template to use with the description section of your listings.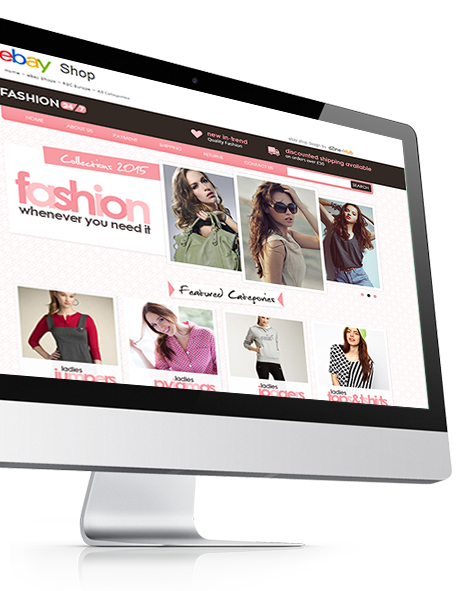 Ask Yourself This…
What if you could build eBay stores like the biggest sellers on eBay (the big guys who are selling tens of thousands a week!) that look stunning and professional on any device, with no extra work and without a huge budget?
What if you could customize your pages, to look exactly how you want, without having to code or design, so you can showcase your products in a way that makes you an instant authority seller in your market?
Imagine if you could be up and running and selling products in days or weeks rather than months.
After listening to our clients, we broke down how the biggest sellers on eBay designed their stores and redefined the game.
From all of these case studies, we discovered that there are three additional options that grow an eBay store:
Rotating Banner Slider

showcase your best selling products

Drop-down Header Menu

ideal when you have multiple levels of categories, as you can display them all for quick and easy access.

Mobile responsive eBay Store

allows easy browsing from smartphones and tablets.
Ordering and implementing even a few of these options will set you apart from the majority of ecommerce stores.
New Entrepreneurs And Experienced eBay Sellers
Trust dZine-Hub

Our Recent eBay Shop Designs
Detailed reviews of dZine-Hub direct from customers

dZine-Hub eBay Designs Love Integration
Our design works perfectly with 25+ seller tools






We'll Provide Support If You Get Stuck
Our friendly support team will help you through any issues for a full 6 months after you've OK'd your design. There will always be new questions and issues down the road, that's why we'll be here to personally answer all of your queries.
Frequently Asked Questions & Answers
Who owns the design at the end of the project?

You do. At the end of the project, you own all copyrights to the design you have custom-built with us, no questions asked.

Do you have a base template that you work off of?

Heavens no! Every single design of ours starts with a blank canvas. There's not too many different things you can do on eBay in terms of layouts, but every store is branded uniquely with us.

Can I change elements of my design in the future?

Of course. All the images that make up the design are stored as separate image files on your server. Any changes you wish to make, you can do this directly by replacing the relevant images on your server. All the HTML code is again stored directly in your eBay account so you can edit this any time you need to. If you need our help, we're happy to help.

What are your support terms?

Once the project is complete, we do not make any changes to your store or listing template as part of the project. Any changes will be charged a nominal service cost depending on the amount of work involved each time. However, any questions you have will always be answered, even if it is a couple of years after the project is complete. We're here for you, and we mean it.
Do you outsource any of your work?

No we don't. All our design and development work is done in house at dZine-Hub, and we get our highs when you're delighted with our work.

Does my eBay store have to go down during the process?

No. Your store remains unaffected. During the installation of the design on your eBay store, there is a brief moment during which the store front would look a bit awry, but it's all sorted before you can say Indiana Jones.

What happens to my existing listings already on my eBay store?

They would remain as they are, and display within the newly designed eBay shop. If you would like the description section of each item to be designed, you do not need to end the items, but rather revise each of your existing items manually and include the HTML designed template we provide you with, each time.

I don't know HTML. Can I still use your listing template?

Relax. 90% of our clients do not know HTML and they still use our templates. You do not need to have HTML knowledge or be tech savvy to be able to use the listing template. We would give you few simple steps to follow, which we assure you isn't rocket science. We hand hold you taking baby steps until you're okay on your own.
Professional Design Communicates
Credibility, Trust, And The Promise Of Quality

The more people trust you, the more willing they will be to take a risk and buy from you
or