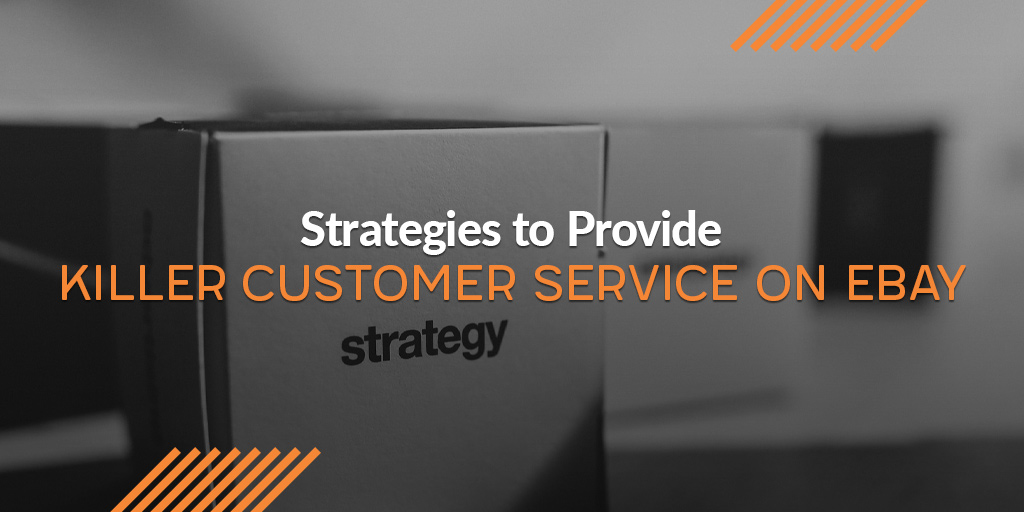 Customer service can make or break your eBay business. While you can make a sale without a disciplined customer service policy, you won't get many repeat customers.
On the other hand, when you focus on providing valuable and friendly experience for your eBay customers, you'll be rewarded with positive reviews and repeat customers even if things go wrong in the initial interaction.
Let's talk about how to deliver amazing customer service that inspires trust and keeps buyers happy.
Here's a list of additional resources for crafting customized emails with eBay users.
1. Respond Promptly
For your potential buyer, there's nothing worse than an unresponsive seller. If a buyer sees your product but still has a question about it, that's problem number 1. But if the buyer then takes the additional step to ask you the question and you don't respond promptly, that's the biggest problem.
Here's the thing: most buyers aren't going to ask you a question. If you don't provide all of the information needed to make a decision, most buyers will just skip over your item and look at your competitors.
However, the precious few who reach out to you for further clarification– that's a gift. One person usually represents a larger group of people who simply never took the time to ask. And by answering that buyer's question (and updating your listing with the information accordingly), you'll be providing proactive customer service (more on this later).
It's also important that you strike while the iron is hot. You want to make sure that the buyer doesn't give up on your item and seek out a similar product from a competitor. By answering quickly, you'll avoid losing a sale due to seller unresponsiveness.
You definitely want to respond promptly when a buyer has a problem with a purchase. If you can help it, never let the buyer escalate to eBay's customer service because eBay tends to side with the customer and not you.
2. Ship Quickly
If everything else is equal, having to wait an extra week to get your trinket may push your customer over to the competitor. While you can't do much about Royal Mail, handling time is well within your control.
Make prompt shipping a part of your commitment to the customer. Same-day shipping may give you the competitive edge, and prove to your customers that you value their business.
eBay will send an automated email to inform the buyer that their item has shipped, but I recommend that you take an additional step and customize that automated email. Take this opportunity to thank them for their business and encourage them to reach out to you with any questions or concerns.
To customize your automated email, go to your account and select the "Manage Communication with Buyers" option.
3. Train Your Team How to Respond
One thing's certain: you need a consistent and concise strategy for handling your customers.
This is true whether you're a one person shop or you have an entire service team devoted to customer care. In fact, it's even more important to have guidelines for customer service when you're working with a team because you want to deliver the same service, every time.
Train your staff on what they should say and how they should say it. Make sure that everyone knows your customer-facing policies and that they feel empowered to help the customer.
In that vein, empathy is crucial. It's probably the most important element of your customer service strategy. So, while you can't teach empathy, you can definitely emphasize its importance as one of your brand's values.
4. Offer a Money Back Guarantee
One of the best customer services strategies you can implement is a money back guarantee. This is a sure sign to your customer that you stand behind your product. And this move allows you to build trust with your potential customer. People will be more willing to take a chance on your product, even if you don't have a lot of reviews, because they know that you're willing to take back the product you've sold if something goes wrong.
5. Offer a Return Policy
Hand in hand with a money back guarantee is a return policy.
Make it easy to buy and easy to return and you'll have buyers who do just that– return! But they won't be returning your product, they'll be returning to get more of your product, and to tell others about you.
By offering a transparent and generous return policy, you can set yourself higher than your competitors who probably don't allow returns. Sure, there will be someone who wants to test your return policy, but remember that most eBay users aren't out there looking to scam you. They just want an honest deal, and your return policy may be tip the odds in your favor.
Here are a few elements to consider when drafting your return policy:
Waive restocking fees
Pay for return shipping
Offer a longer return window
Offer a replacement
6. Be Proactive
As I mentioned above, you definitely don't want to be in a position where you must respond reactively to your buyers. That puts you on the defensive and it can require a lot of time on your part to respond to each and every buyer question personally and individually.
Instead, make up a list of all the possible questions a buyer may have about your listed item and even your eBay shop in general.
Then, add these questions (and your answers) to your Q&A for buyers. You'll find this option in your account, under the "Manage your communications with buyers" section.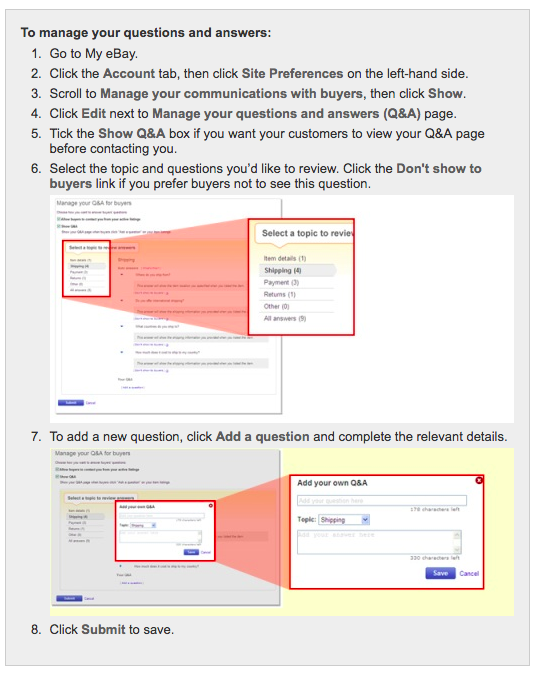 It's important to note that eBay also automatically generates basic answers to common buyer questions, such as shipping. eBay does this by pulling information that you've supplied in the description about the listing and your store. So, it's a good idea to be as thorough as possible with those details.
Don't forget to customize your feedback request email, too! This email is automatically sent by eBay to remind users to come back and leave a review. As part of your customer service, you should definitely personalize that request and not allow it to be a soulless form letter. Once again, thank the buyer and then ask for them to contact you if they're not completely satisfied before leaving a negative review.
7. Undersell and Overdeliver
It may be a cliche, but it's a darn good one to live by. Never over-sell your product. It will cause people to build high expectations for your product, and then, once they finally receive it, they will feel scammed. That's not a good place to be, especially for a business that survives off of customer reviews.
Manage expectations by presenting a realistic image of your listing, in photo and description. Be honest and upfront when you describe your item. Include an accurate assessment of the condition. Always present defects. Images go a long way when it comes to honesty and trust.
That's the undersell part. But what about the overdeliver?
One way to overdeliver is to ship as fast as possible, as we mentioned before. But, my favorite overdeliver strategy is to include a little something extra in your shipping. Whether that's a small complimentary gift or a thoughtful handwritten thank you.
Find a day to bring delight to your customer, and they'll find ways to buy from you in the future, and refer others to you as well.
Don't forget to download this list of additional resources for customizing your emails with eBay users.