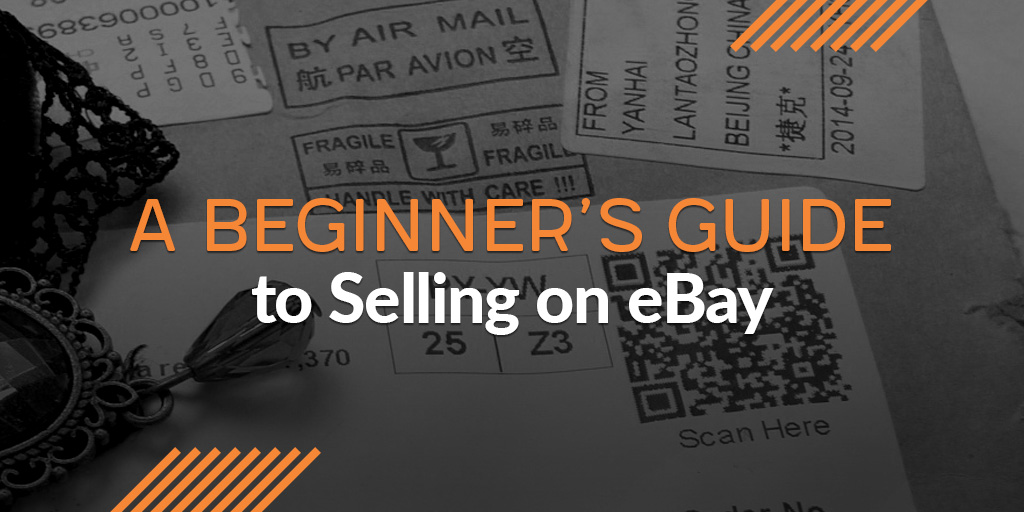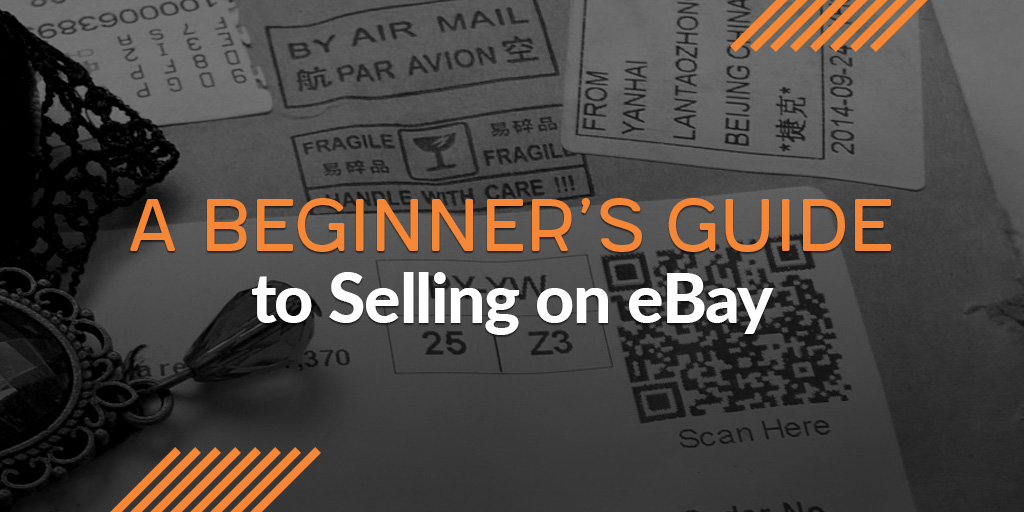 Do you need help selling on eBay?
While it's easy to sell your items on eBay, if you're not sure how to actually get started, the prospect can be overwhelming.
If you're a first time eBay seller, use this guide to set up shop quickly and professionally so that you can get to the business of selling.
Here's a checklist for what to do before listing your products on eBay. Subscribe to receive this extra resource.
Create an eBay Account
First things first, you'll need an eBay account. Fortunately, setting up an eBay account is free and simple.
Go to this page to register. Enter your email address. Make sure it's one that you'll want associated with your account because customers will see this email address during the transaction. Ideally, it should be an professional email address, even if you're using a free email service through Gmail or Hotmail. No "CandyLuvsMatt87@hotmail.co.uk", please– not if you want to curate a professional reputation.
Create a PayPal Account
If you haven't already, you need to set up an account on PayPal.
Love it or hate it, PayPal is the best option for getting paid on eBay. Although you can accept other types of payments, including credit and debit cards or payment upon pickup, the majority of eBay users are accustomed to PayPal.
PayPal is also the easiest option for new sellers because setup is a breeze.
I recommend creating a separate business PayPal account for your eBay shop. Don't worry— you can have one personal and one business account with PayPal. However, you will need a different email address for each. Lucky for you, you've already created a new email address for your eBay store, so definitely use that one.
The benefit of having a business account versus a personal account on PayPal is the flexibility to accept credit or debit card payments. You'll also be able to grant multi-user access to others on your team.
Decide on a Business Address
If you're like many sellers, you're starting your shop from your dining room table. You may not have a separate brick and mortar store to use as your business address.
In this case, you'll probably want to purchase a PO Box from a business address service such as Royal Mail.
Not only will a PO Box look more professional if you don't have a formal business address, it will guarantee more privacy, too. You definitely don't want random customers (beloved as they might be) to know your home address.
Prepare Product to Sell
Let's talk about how to prepare your products to sell on eBay:
Take photos
Photos will sell your product faster than price and description. So, be sure to include a high-resolution photo with your listing. No fussy, grainy, or dark images.
Write a product description
I cannot emphasize the importance of a solid description. The last thing you want to do is misrepresent your item. If you do, the buyer won't be happy, and will exact vengeance through negative feedback. Because feedback is the most important part of establishing buyer trust, you need to keep negative feedback to a minimum.
To that end, start by being completely transparent about your product. In fact, it's better to over-share with a critical eye than gloss over and withhold.
Describe the condition the product is in, and any other information the buyer needs to know to make an informed choice.
Decide on price
Find out what other similar items are selling for so that you can compete. You can easily do this by searching for the item and then selecting "sold listings" in the sidebar.
Understand the Fees Attached to Selling an Item
Selling an item on eBay is like sharing a pie. You don't get the whole pie, you only get a slice. Here's how each transaction breaks down:
Pay eBay for allowing you to list the product.
Pay PayPal for allowing you to process the payment
Pay for packaging costs (i.e. boxes, packing material, tape, etc.)
You'll have to pay for shipping costs,unless you transfer this responsibility to the buyer. But even then, you'll have to pay for transportation to and from the post office.
Do not get discouraged. Remember that every shop has overhead, including brick and mortar stores. If you set up shop at a brick and mortar location, you'd have to pay for rent, utilities, staff, marketing, and other miscellaneous items. When you list on eBay, you're actually saving a lot of money that would traditionally go to overhead expenses.
So, knowing all of this, pricing becomes crucial, as you do not want to undercut yourself, and end up taking a loss by selling an item (this actually happens more than you think).
Instead, calculate the profit you'll make from each item that you sell.
For example, let's say you sell a widget for £10 with free shipping (in other words, you'll pay the shipping).
eBay will charge you £1 (10% of the total transaction value. This final value fee will charge depending on the widget category.)
PayPal will charge you .34p (3.4%) + .20p for a total of .54p (although this fee can vary).
The post office will charge you £2.80 for 2nd class delivery.
And just for simplicity, let's say you already own and don't need to buy additional packaging materials.
You'll pay £4.34 in overhead and receive £5.66 in profit for an item that you originally listed as £10.
Now, if the item cost you below £5, that's great. But if the item cost £5.67 or more, you're losing money. So, keep that in mind.
Understand the Insertion Fees
An insertion fee is when you're charged to list items on eBay. Keep in mind that all sellers receive free listings each month. You're not required to pay an insertion fee for these listings.
The amount of free listings you're allowed depends on the type of store you have.
On the Basic shop level, you receive 250 free, fixed-price listings each month. If you go over this amount, you'll pay £0.09 for each additional fixed-price listing.
On the Featured shop level, you receive 1,200 free, fixed-price listings each month. If you go over this amount, you'll pay £0.04 for each additional fixed-price listing.
On the Anchor shop level, you receive unlimited free, fixed-price listings. You won't be charged for additional fixed price listings, either.
For all shop levels, you'll have to pay an insertion fee for auctions. For auctions starting under £1, you'll pay £0.04. For auctions starting at £1 or more, you'll pay £0.13.
This can get complicated pretty quickly and the fees can also change, so if you'd like to read more, definitely check out the Seller Centre on eBay here.
Understand the Shop Subscriptions
So, the next logical question is how do you determine what shop level is right for your business.
eBay offers three shop levels: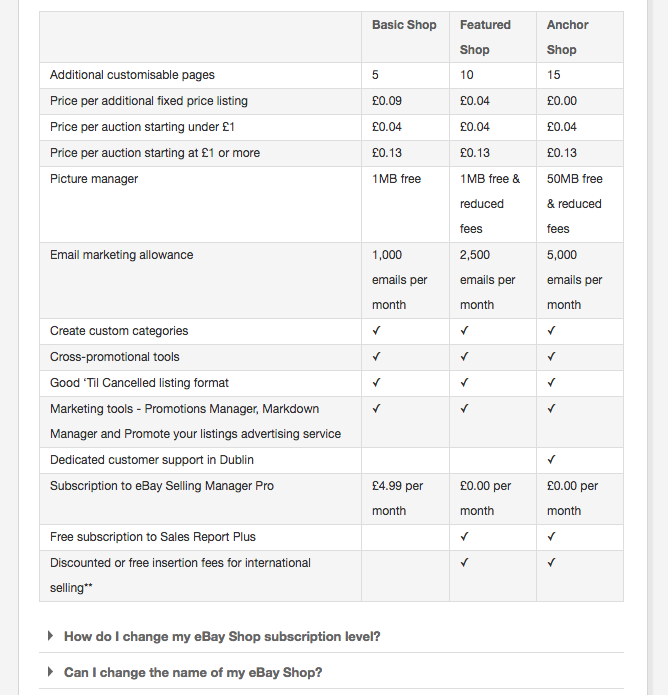 Image Courtesy of eBay
Most beginner buyers will find that the Basic Shop fits their needs. For £17.38 per month, you receive 200 free fixed price listings. This shop level makes sense if you list between 65 to 600 products each month.
The next level up is Featured Shop for £52.17 per month. This solution works well when you list between 600 to 5000 items per month.
Finally, there's the Anchor Shop level where you will need to list over 5000 items. You'll pay £217.38 per month. You can upgrade or downgrade your shop level at any time, however certain rules and fees do apply. Visit this page for more details.
Dedicate Yourself to Customer Service
Customer service is so important on eBay. eBay users are very savvy and won't take a chance on a poorly rated seller. Make sure that you're on top of complaints, questions, and any buyer feedback so that you increase your trustworthiness.
Get Started Now
If you haven't already, hire us for your professionally designed eBay store. Go here to get started right now.
Here's a checklist for what to do before listing your products on eBay. Subscribe to receive this extra resource.