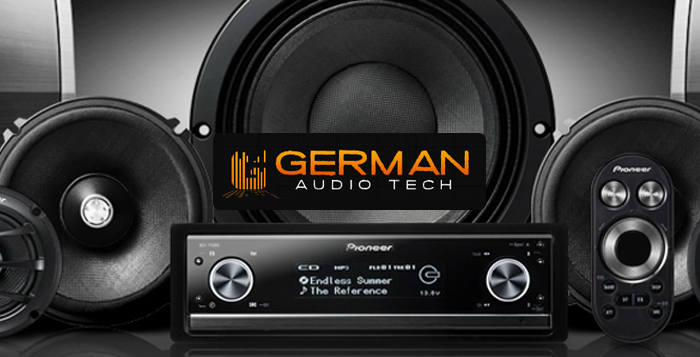 German Audio Tech is a reputed online retailer specialising in audio and electrical equipment for high end European automobiles. Since 2001, they have established a strong online presence and cater to thousands of customers across the world and service the leading European car brands and models through their eBay store. They also offer repair services for existing OEM and audio systems and provide a limited lifetime warranty for all services.
When Chris from German Audio Tech contacted us, he wanted a complete makeover for his eBay store. He wanted an eBay store that reflected his brand's official branding. He also wanted the eBay store to highlight the best features of his business and provide the customer with a quick and easy shopping experience.
After carefully considering his requirements, this is what we did…!
Rotating banner slider – Because the best features, products and policies must not be missed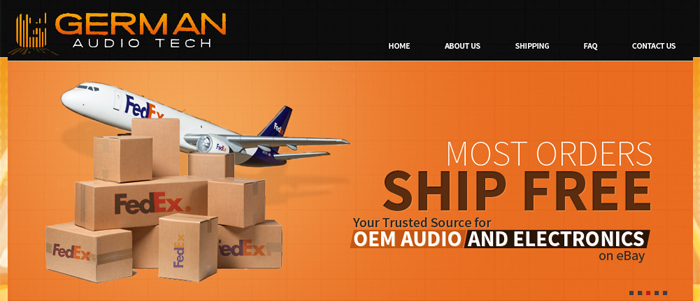 German Audio Tech has some niche specialisations and policies that deserved mention on their home page. Positive attributes and good business policies are best displayed prominently so that they highlight the company's expertise and credibility.
We used a rotating banner slider on their homepage to highlight their unique policies such as free shipping, limited lifetime guarantee on all services, etc. We displayed the various leading car brands they service on the rotating banner slider, so that a visitor can instantly identify the desired brand and also highlight the company's range and capabilities.
Top sellers scroller to showcase the best selling products
German Audio Tech had some niche items that were extremely popular in the market. We decided to showcase these items with a custom designed top sellers scroller.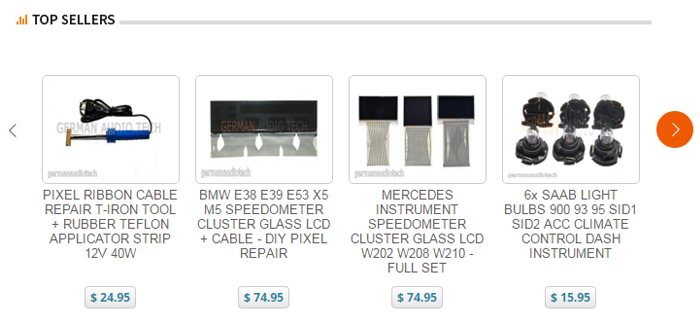 The best selling items are made to scroll automatically and instantly tell the customer of the eBay store's specialisations and capabilities. In one glance customers can know which products are in high demand currently.
Promoting select items through featured items!

On the listing template, we custom designed a featured items section that the seller can use to highlight desired products. There could be some items that the seller would like to promote. He can do so with the featured items section.
The seller has complete control over the featured items section and can select what items can appear and can add/remove items at will. He can also use this section to cross promote by showing related items, display his best sellers and promote his products.
We enjoyed our project with German Audio Tech and were happy we were able to give them a smartly designed eBay store that reflected their brand identity and highlighted their best products and policies.
So…What did they have to say?…
"Transformed my eBay Business from Dud to Stud!…We started seeing a dramatic decrease in sales, so we contacted DZINE HUB. Fahd worked with us to design auction templates, a total makeover, and a Beautiful! eBay store main page. They have gone above and beyond to make our eBay store a much better place. Our sales are now higher than ever, and we could not thank them enough for all they have done for us." – Chris, German Audio Tech
Read the full review on TrustPilot here!…
If you want to establish your eBay presence with a well designed, impressive eBay store design and boost traffic, increase sales, Give us a call at +44 (161) 408- 3726 (UK) or drop us a line at sales@dzine-hub.com We would love to hear from you.