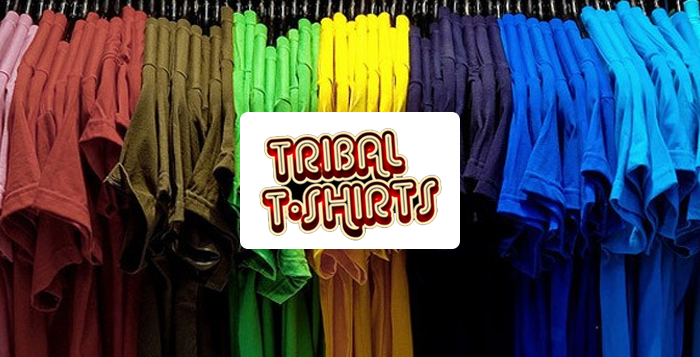 Tribal T-shirts have been designing and printing T-shirts for more than 12 years. Through their eBay store, they supply customers across the world with customised, high quality prints.
Tribal T-shirts however, did not think their eBay store accurately reflected their brand persona. They wanted an eBay store design that was quirky, colourful with easy to navigate product listings.
We set about getting Tribal T-shirts' eBay store a total makeover!
This is how we did it…
A fully customised eBay store home page!
A picture is worth a thousand words. Creating a visually appealing branding on the eBay home page was our top priority as first impressions are important.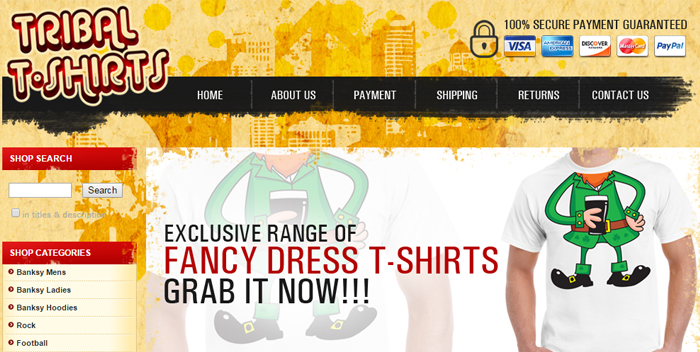 We customised their homepage to look youthful, colourful with the right grafitti that arrests the attention of young, upwardly mobile customers who are on the lookout for eye-grabbing fashion options.
We displayed important information such as payment options, shipping details etc in prominent areas on the homepage so that potential customers don't have to click through several pages to know these details.
Featuring Popular Categories to save customers' time!
We don't want a person looking for cartoon T-shirts to land up on a page for rock band T-shirts!
Keeping easy navigation in mind, we featured their store's most popular T-shirt categories in separate boxes with eye-catching images. This way, we ensured that a customer can find the desired product categories easily.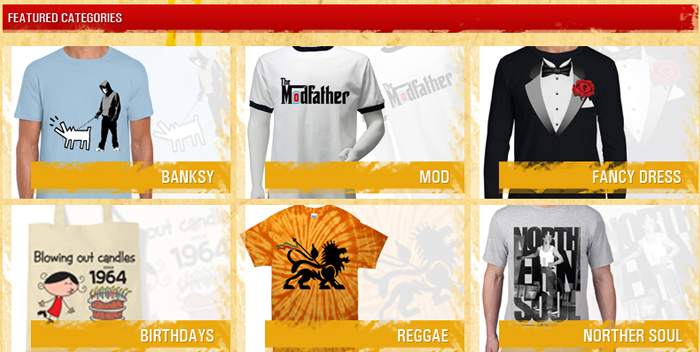 We didn't stop there!…We also made the seller's life easier by setting up our dynamic categories module so that the active listings are automatically updated with the new eBay store categories every time an eBay store category is added, deleted or modified.
A Mobile responsive listing for any platform, configuration or device

We live in the world of apps, smartphones and mobile shopping. 60% of eBay shopping is done on hand-held devices today.
What is the point in designing a great eBay store if customers cannot view it easily on a mobile device?
We made sure that the listing is mobile responsive so that customers don't have to pinch, scroll and zoom with any difficulty. Big, prominent images with appropriate calls to action and multiple thumbnails with large sized text made shopping easier and resulted in lesser page abandonment.
We ensured that their listings are accessible on any platform, configuration or device.
Linnworks customised listing template
Many eBay sellers use seller tools to manage their eBay store easily without having to log on eBay every time. Tribal T-shirts used Linnworks.
We customised our listing template for Linnworks by adding custom tags in place of item title, description and the gallery images. This means that the seller doesn't have to edit the HTML manually. He can just choose the available dZine-hub listing template from a drop down in Linnworks and apply our design across all their listings in just a click!
We had a good time working with Tribal T-shirts to make their eBay store revolutionary, innovative and at the same time easy to navigate.
What did they think?
"From the outset we found D-Zine Hub very easy to deal with. The initial forms that we were sent for the brief made it straightforward to set out our ideas for the design. As the design progressed we were able to make as many revisions as we liked to get the final layout we wanted. The experienced graphic designers at D-Zine Hub were on hand to make helpful suggestions along the way. Once the design phase was finished it was installed on smoothly on our Ebay shop. There were some teething problems with the way the template worked with our order management and listing tool, Linnworks. The developers at D-Zine Hub were able to sort this out quickly an efficiently. I'd recommend them to anybody who wants professional looking eBay shop without any stress involved." – Andy Wilson, Tribal T-shirts
If you think your eBay store has a unique quirky edge that deserves to be highlighted more, if you want your company's branding to reflect in your eBay store, you have come to the right place. Give us a call at +44 (161) 408- 3726 (UK) or drop us a line at sales@dzine-hub.com. We would love to hear from you!