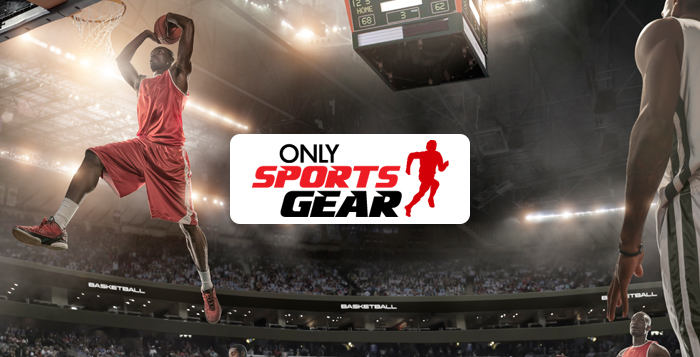 OnlySportsGear is a Cheshire based online sports store. Over the past 25 years, OnlySportsGear has grown to be the leading sports equipment supplier in the U.K. They supply all equipment from all leading brands at affordable rates and also provide customised team wear for schools, clubs and businesses across the world.
Kashan Khan from OnlySportsGear, asked us for a tailor-made Magento website that showcased their wide range of products and was compatible with all mobile devices. The Magento website had to be linked with Volo (previously eSellerPro) for inventory management and multi-channel selling.
Considering their massive inventory size and the need for a custom branding, we decided to come up with a fully custom designed & developed Magento webstore. Some of the advanced features used in the website:…
Multiple Currencies

OnlySportsGear cater to customers all over the world. If a visitor is browsing the site in the U.S. he/she would obviously want to view the prices in dollars and not pounds.
Considering this important requirement, we enabled the module that would display the prices of items on the website in any currency. Not only that, it automatically syncs up with the current currency rates and displays the exact, corresponding currency value on a daily basis.
This smart development is a must have for a Magento website like OnlySportsGear, who wanted the currency conversion rates to update automatically on a daily basis.
Megamenu for Multiple Categories
OnlySportsGear sells a variety of items across several categories. From swimming to football, from tennis to athletics, their categories and subcategories are a lot.

It is bad practise to expect a visitor looking for a women's swimming cap to first go to the swimming section then the caps section and finally view the various items in the women's swimming cap page.
To minimise the number of clicks a visitor makes and to provide a better shopping experience, we built in the megamenu for OnlySportsGear. By just hovering over a category in the megamenu, the second and third level categories open up along with an image. The customer can go to the desired sub-category/page in just a click!
Quicker shopping and better user experience!
A Dynamic Brands Scroller
All leading sports brands are stocked under the OnlySportsGear banner. A customer may have a preference for only one brand and may be very clear about what product he/she wants.
A prominent brand scroller on the homepage of the site, helps a customer identify a desired brand and view all items under that brand. It also helps the seller promote a few brands of his choice. He can add/disable/edit the brands that appear in the brand scroller and display a few brands more prominently than others.
Advanced Search Engine
The default Magento settings do not allow for intelligent searching on a site. It is good when you search for an exact match only.
We suggested a smarter search option and installed Klevu search for OnlySportsGear. With Klevu search, as soon as you start typing in the letters of your search, suggestions pop up along with images, price and the number of variants! Also, the buyer does not have to hit Enter to be taken to the search results page. In an instant, he can just click the desired product/category as it pops up and visit the page directly!
Mis-spelling are intelligently matched with relevant results.
Not only does this feature save time for someone looking for something, it provides a improved search experience by displaying relevant search results.
Advanced Layered Navigation for the Category Page
We gave OnlySportsGear's customers the option of finding EXACTLY what they are looking for with an advanced layered navigation feature on the category page.
Many customers don't want to view items that are beyond their budget and do not conform to their desired size, colour or design.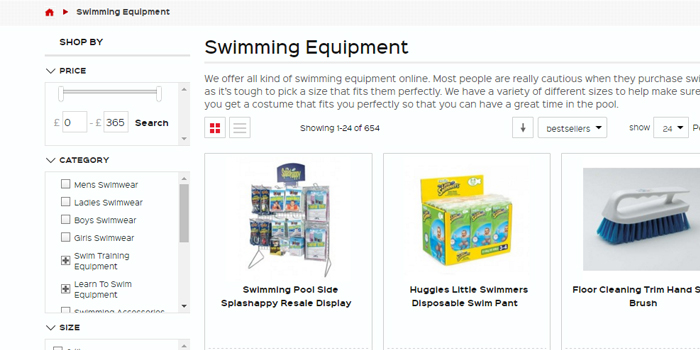 With our advanced layered navigation feature, the customer can filter the options for category, price, colour, size, design that they want in a menu on the left. This will help the customer view only the items that match his/her choice!
Mobile and Tablet Responsive
Did you know that mobile shopping now accounts for 50.3 % of all e-commerce traffic? 6.1 billion people are expected to own a smartphone by 2020. With more people shopping from hand-held devices, it is absolutely crucial for any seller to make his/her site compatible with hand held devices. We made OnlySportsGear's website mobile & tablet compatible.
With a mobile optimised site, the web pages do not shrink to fit the screen size of the device, rendering the content unreadable. Only relevant product information that a customer needs is displayed in readable font. The cart, checkout pages contain the call to action buttons displayed prominently. We ensured that their website is configured to any platform, device or configuration and that they don't lose out on any customer segment! By making the Magento site mobile and tablet responsive, we ensured that the customers have a quick and easy shopping experience across all mobile devices.
Full Page Cache for Load Speed Optimization
We installed and configured FPC on the website and this saw significant reduction in the load time for the website. That apart, we had to compress the CSS and JS files to achieve industry standard load times.
Here is a comparison of the page speed times of the top ecommerce sites in the UK vs onlysportsgear

Sagepay Integration
Known for it's robust security and low maintenance cost, Sagepay is emerging as a popular option for Magento sellers to collect credit and debit card payments.
We didn't just integrate Sagepay to Onlysportsgear's website, but made sure all mandatory parameters such as compliant SSL, dedicated IP address, 3D security and PCI compliance was completed before the integration was done.
By covering all mandatory requirements and sucessfully integrating Sagepay, we gave Onlysportsgear a secure payment gateway that is encrypted and safe from fraudulent activities.
We enjoyed working with OnlySportsGear's Magento site. Let us hear what they had to say!
"dZine-Hub offer a fantastic service. Their communication and effort was outstanding and fulfilled every requirement we asked for. I cannot recommend dZine-Hub enough and will definitely use them again. Thank you!"

– Kashan Khan, OnlySports Gear, UK
If you think your Magento site needs a complete revamp to draw in more leads and attract more customers, we would love to work with you! Our Magento certified experts will be more than happy to plan, develop, optimise and support your Magento project. Call us at +44 (161) 408- 3726 (UK)  or drop us a line at sales@dzine-hub.com We would love to hear from you.