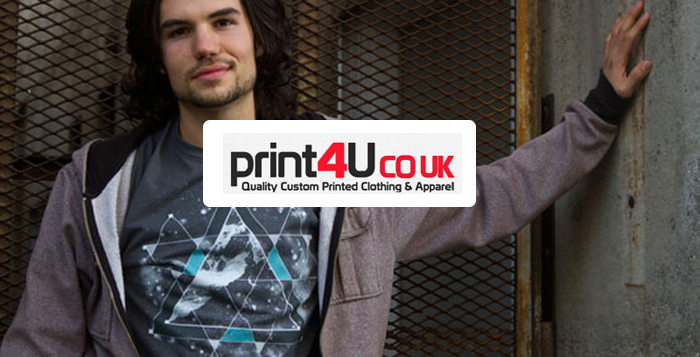 Print4U is a U.K. based online retailer of custom printed clothing & apparel. They have more than more than 22 years of retail experience and have been selling through their eBay store for the past 10 years. Customers can select any message they want and get it printed on hoodies, T-shirts, sweatshirts etc. They also offer DVDs, CDs, Books etc.
Steve from Print4U wanted a smart eBay store that was navigable, easy to use and at the same time reflective of the company's branding.
After considering the requirements, this is what we came up with…
Rotating banner slider that showcases the eBay store's best products and features

Every eBay store's home page must tell a visitor in one glance what the eBay store is about. A visitor cannot be expected to spend time to look for important information and attractive business policies.
We decided to display Print4U's best policies and eye catching products on a rotating banner slider. Business policies like "Free delivery", "Same day delivery" etc, deserve prominent mention on the home page as they tell customers instantly what the store offers and can lead to customers staying on the site and browsing more.
Dynamic categories module for effortless inventory management
A feature that makes the seller's life easier!
Constantly changing shop categories could cause a problem for the Print4U. Hours of manual changes and HTML code modifications are involved.  
We made the seller's life easier by installing our dynamic categories module. With this module, every time a store category is edited, deleted or modified, the changes reflect automatically in the active listings.
It is a smarter way to manage one's inventory and saves valuable time and effort!
We enjoyed working for Print4U and making their eBay store more eye catching and streamlined.  
What did they think?…
"Not a big one for leaving reviews,however felt obliged this time due to a really great service!

Got these guys to re design my Ebay storefront…Totally hassle free from start to finish. All amendments carried out really quickly ,and all of my dumb questions answered without a hint of "What the hell are you on about" .Which I always seem to get from my software suppliers. I really would advise you to give these guys a try. I'll be back for my Magento store very soon!"

– Steve, Print4U
Check our the full review on Webretailer here…!
If you want to establish your eBay presence with a well designed, impressive eBay store design and boost traffic, increase sales, Give us a call at +44 (161) 408- 3726 (UK) or drop us a line at sales@dzine-hub.com We would love to hear from you.