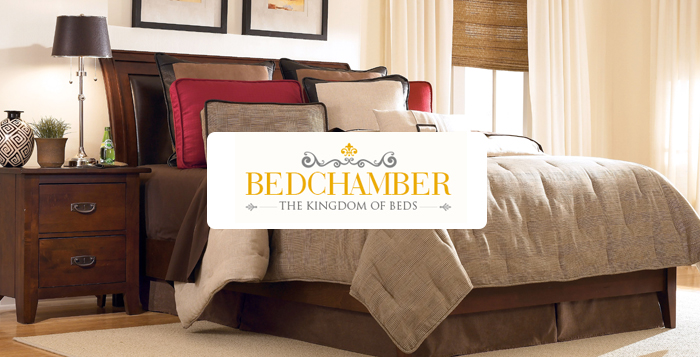 Bed Chamber produces intelligent, functional, upholstered bedroom essentials. They have run retail stores for over 30 years and for the past 11 years, have an active eBay store. They provide a diverse global clientele with customised options to suit every requirement. They even consult chiropractors and doctors to find the perfect fit! From orthopaedic mattresses to memory foams and specialist mattresses, Bed Chamber has it all!
When Nakash from Bed Chamber contacted us to help design their ebay store, we decided to come up with a logo design, corporate brand colours that reflected the company's personality accurately and positioned them on ebay as a professional, luxury-conscious expert on Bedroom essentials.
This is how we did it…
An eBay store Homepage that turns every visitor into a customer
An ebay store homepage has to tell your customers who you are and what you sell. It should communicate confidence, class, brand values and must intrigue the customer to explore further.
We made the following changes to the ebay store home page
A store design that speaks luxury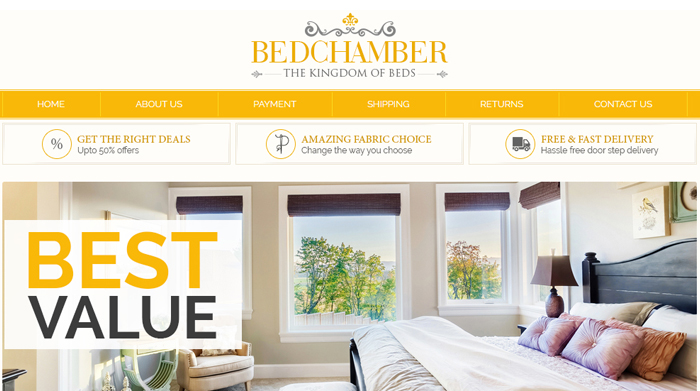 To establish the luxury quotient that Bed chamber stands for, we came up with an arresting royal yellow colour scheme that was elegant and inviting. We wanted to create instant visual appeal and lead their customers to click further
Featured Categories – The best way to showcase a vast inventory

When a store has a fantastic range of products, you can't show it all on the home page. We came up with display image boxes that links to each category so that their entire range is displayed in a non-cluttered format.
A customer browsing through a large inventory can easily glance at categories and choose what is relevant to him/her. Makes life easier doesn't it?!
Featured Items – An eye-catching  way to feature unique products

Bed Chamber has some unique products that they wanted to showcase to the world. We provided the option of displaying select products of their choice in a banner on the eBay store home page.
Rotating Banners! So that unique offers are not missed!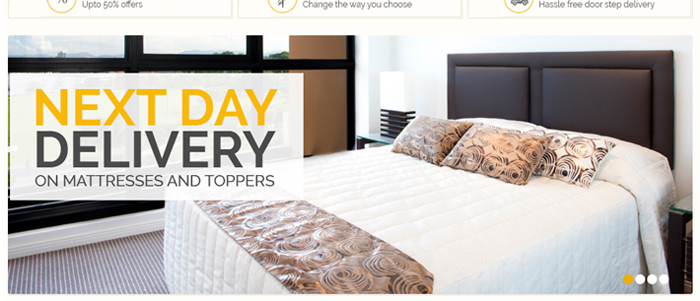 Apart from unique products, Bed Chamber has many enticing features and offers. All their products are produced in the UK. They offer free shipping and quick turn around time when compared to other businesses.
Why not display all this?
We employed the rotating banner slideshow to prominently display these select features on the homepage so that a customer is drawn in and explores further!
Dynamic categories that make the seller's life easier!
A seller like Bed Chamber with a large inventory that constantly changes, cannot be expected to manually update the active listings every time an item is added/removed. It is a waste of time.
We made Bed Chamber's store categories on the listing page dynamic by installing our eBay API based dynamic categories module, so that any newly added eBay store category is automatically updated across all the live listings. Through this, we saved the seller many hours of mind-numbing work!
Mobile responsive listing template for people on the go!
Customers are busy people and are always on the move. They shop while waiting for their cabs or commuting, during a lunch break etc

We wanted each of Bed Chamber's visitors to become a customer and the way to do that was to provide make the eBay listing template mobile responsive.
We ensured that our mobile responsive design brought out the best the eBay listing template had to offer in an accurate, clear manner, with large sized images and stripped down, relevant product information.
dZ Lister – A simple eBay HTML description builder
Customising the description section of your item with a design template makes it look more professional and attractive. But not all customers know HTML coding to be able to do that. Doesn't matter!
We made this simple HTML template customisation possible with a tool we developed – the dZ lister.
It is easy to use. A customer just needs to fill in title, image URL and description and the same fields reflect on the listing page!
This is a free service that customers can use! We don't host the design images on our server and the customer is not locked down to a provider as such.
We enjoyed working on Bed Chamber's eBay store and making it more streamlined, informative and easy to navigate!
If you need a professional eBay store design and want to stand head and shoulders above the competition, look no further! Give us a call at +44 (161) 408- 3726 (UK) or drop us a line at sales@dzine-hub.com. We would love to hear from you!