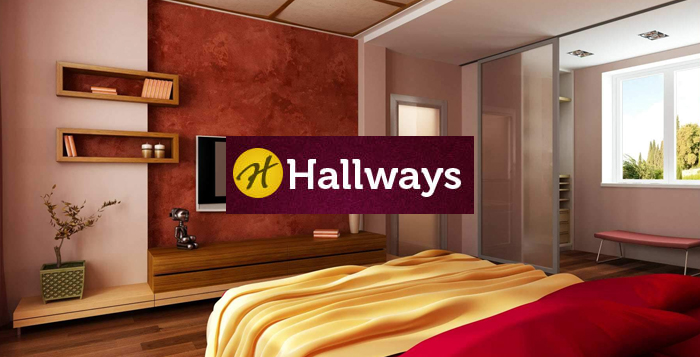 Hallways is a Yorkshire based company selling household textiles for the past 30 years through various retail outlets in the U.K. They have been catering to a diverse customer base through their eBay store since 2008.
When Nathan from Hallways contacted us, he wanted a "clean and professional" looking design for his eBay store that was easily navigable. It had to attract attention with some promotional activity too.
After analysing his requirements, this is what we did…
Quicker shopping with the horizontal menu
When a customer knows what she wants, it is best not to waste her time but help her get to the desired page as soon as possible.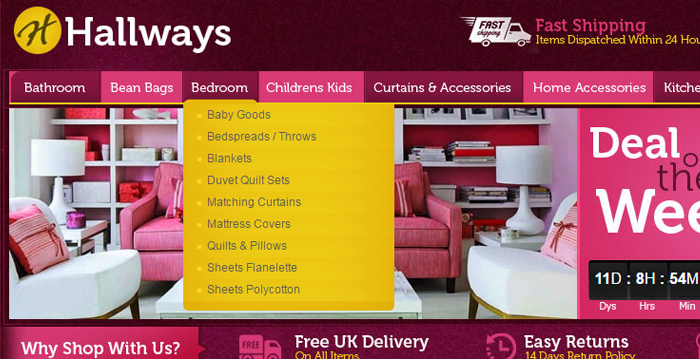 We achieved this through the horizontal menu that displays 2nd level shop categories. This way a customer doesn't have to go to one category and further select a certain specification. She can directly go to the exact category level she wants and browse further.
Customer experience is better as navigation is made easy.
Rotating banner slider to highlight the eBay store's best
Hallways have several unique products and policies that are attractive that deserve to be noticed!

Attractive offers like "24 hour delivery", "same day dispatch", "Free delivery in the UK" etc, should be highlighted prominently on the home page. They speak about the business policies of the eBay store and attract potential visitors to make a purchase.
An exciting countdown feature to induce urgency and sales!
Every customer likes a good deal! With our countdown timer to the deal of the week, we created a sense of urgency in the visitors of the site.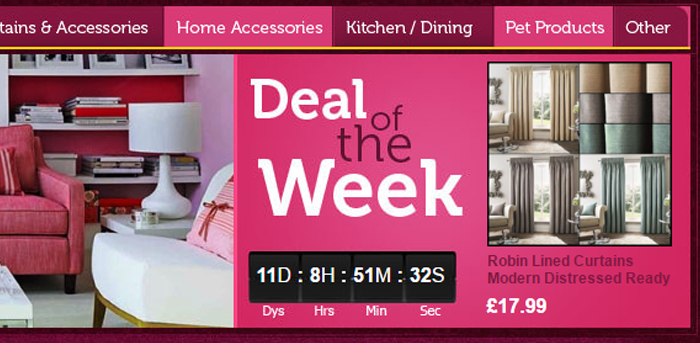 We also gave the store an opportunity to showcase different products every week and drive traffic to the eBay store by an exciting promotional activity on the home page!
No more manual updates with the Dynamic Categories module
Hallways is a store that regularly makes changes to its store categories. Every time an update needs to be done to list of eBay categories, the entire HTML code needs to be revised to include the new store category. This is an arduous process and takes several hours.
We made the seller's life easier by enabling our dynamic categories module. All active listings are updated automatically with the new eBay  store category whenever a change is made to that store category without any manual work by the seller.
Boosting sales with related items
When a customer is looking for gifts for rugs for her bedroom, chances are that she could be interested in playroom floor mats for children as well!
We made the shopping experience more personal with a related items feature on the product page, displaying similar products in the same category. This helps the store tell the customer of the range of products that are available and also increase the possibility of a buyer making an additional purchase.
Making all listings mobile friendly
Customers want to shop on the move and want to browse eBay stores on their mobile devices. Not making an eBay store listings mobile responsive, would mean that the customers would have to view the store in a shrink to fit format that involves them pinching and squinting. This is a bad shopping experience and may lead to visitors abandoning the page.

We made all the listings of Hallways mobile friendly.
With Mobile optimised listings,
Only relevant product information that a customer needs, is displayed prominently in large fonts
Images of the product are blown up so that the customer can browse freely and purchase without any discomfort
Mobile optimised listings are accessible on any configuration, platform or device, thereby making it accessible to a larger audience world wide.
Linnworks compatible listing template
Hallways use the Linnworks seller tool. This tool helps them manage their eBay store without having to log in to eBay every time.
We customised our listing template to Linnworks by adding custom tags. This means that Hallways don't have to edit the HTML manually. They just need to choose the available dZine-hub template from Linnworks to apply our design across all their listings.
We had a great time working with Hallways. We enjoyed establishing their branding and making their eBay store eye-catching and unique!
What did they think?!
"Great team to work with, operate a simple price structure so if you don't need it you don't pay for it. I have been back in touch a few times over the years with changes and the team have always been very professional" – Nathan, Hallways
Read the full review on trustpilot
here
…!
If you want your store design to stand out, leave it to the eBay store design experts. Give us a call at +44 (161) 408- 3726 (UK) or drop us a line at sales@dzine-hub.com We would love to hear from you.