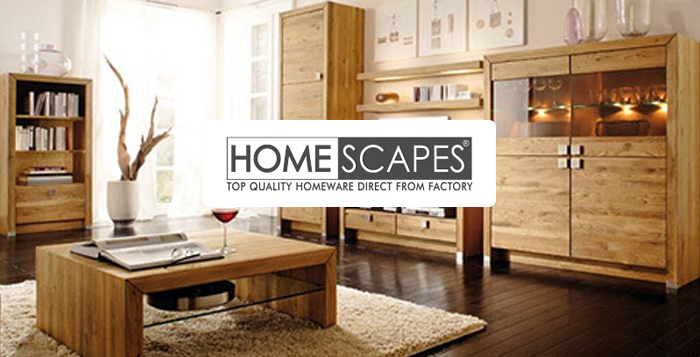 Homescapes is a British furniture & decor retailer with a global manufacturing presence in India and China. They supply high quality home furnishings, furniture, rugs and household textiles to over 20 countries. They are a leading supplier in the U.K and supply furnishings to luxury hotels.
Sam from Homescapes wanted a new look for the company's eBay store that was clean and professional. It had to be functional and showcase Homescape's many products in a non-cluttered format and give the visitor a good shopping experience.
This is how we gave him what he wanted…!
A rotating banner slider so that the best is highlighted

Homescapes is an eBay seller with constant updates to inventory and exciting offers and promotions. These interesting offers and unique specialisations need to be highlighted prominently on the homepage so that they aren't missed out.
A MegaMenu for quick and easy shopping
When an eBay store like Homescapes, has several categories and subcategories, it is best to help visitors reach the desired subcategory as soon as possible without having to click too much!

We came up with a megamenu for Homescapes that instantly opens up second and third level categories when just hovered over. This way, a visitor can go to a preferred page in just one click instead of using multiple clicks to visit many pages.
The mega menu clearly lays out the categories and subcategories and helps a customer shop easily and quickly.
A unique feature to search within a category
Some buyers may be looking for certain specifications within a category and do not have to spend time looking through irrelevant items.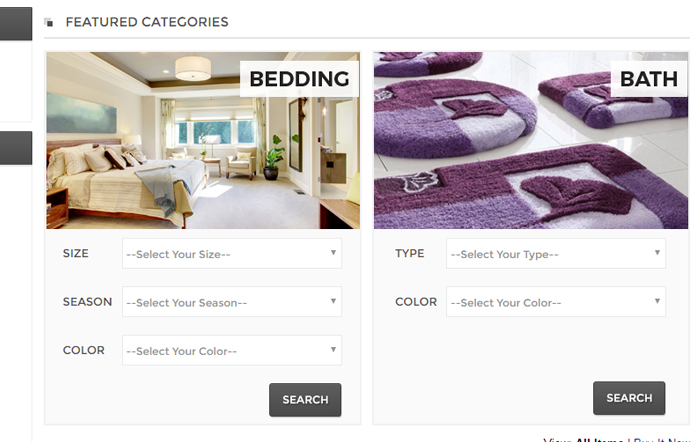 To further narrow down the search results and enable a customer find exactly what they are looking in the shortest time, we enabled a category search feature within the featured categories on the eBay store home page. This way, customers can make selections to the specifications they require and will be taken to only those listings that match their selection.
Makes the customer's life easier doesn't it?!
Related items feature to boost sales
Cross promotion is a great tactic to increase the possibility of additional sales.

We displayed related items on the listing template and helped Homescapes cross promote their products by "suggesting" to the customer the related items that he/she could be interested in.
Not only does it increase the possibility of additional sales, it also helps customers by providing a personalised, intelligent shopping experience.
Mobile responsive listings for the modern shopping experience!
60% of all eBay sales is made with a hand-held device today. With more people choosing to shop on the go, eBay sellers must make their listings mobile compatible or run the risk of losing out on a vast customer base. We provided Homescapes with a mobile responsive listing template.

With a mobile responsive listing template, the customer does not have to pinch, scroll or zoom extensively. The images and call to action buttons are displayed prominently and all product relevant information only is displayed in a stripped down version that can be easily viewed on a mobile phone.
What's more? The template is made compatible with any device, platform or configuration in the world and can help the eBay seller provide a good shopping experience to a wider, global customer segment.
Dynamic categories for easy inventory management
Constantly changing shop categories could cause a problem for the Homescapes. Hours of manual changes and HTML code modifications are involved.  
We made the seller's life easier with dynamic category listings. Every time a store category is edited, deleted or modified, the changes reflect automatically in the active listings.
It is a smarter way to manage one's inventory and saves valuable time and effort!
We enjoyed working with Homescapes and we are glad that we could help them with their eBay store.
This is what they had to say!
"Having worked with other design agencies in the past I can categorically say that dZine Hub went above and beyond my expectations. Their team is well organised, helpful and friendly. We went from initial discussions with them around our plans for the store, taking their expertise and direction to help us build our new look, to having the new eBay store up and running within just a few short weeks.

I'd absolutely recommend dZine Hub to anyone looking to build out their eBay Store designs, or rebrand their store all together." – Sam Clarke, Homescapes
Read the full review on Webretailer here…!
If you want to establish your eBay presence with a well designed, impressive eBay store design and boost traffic, increase sales, Give us a call at +44 (161) 408- 3726 (UK) or drop us a line at sales@dzine-hub.com We would love to hear from you.