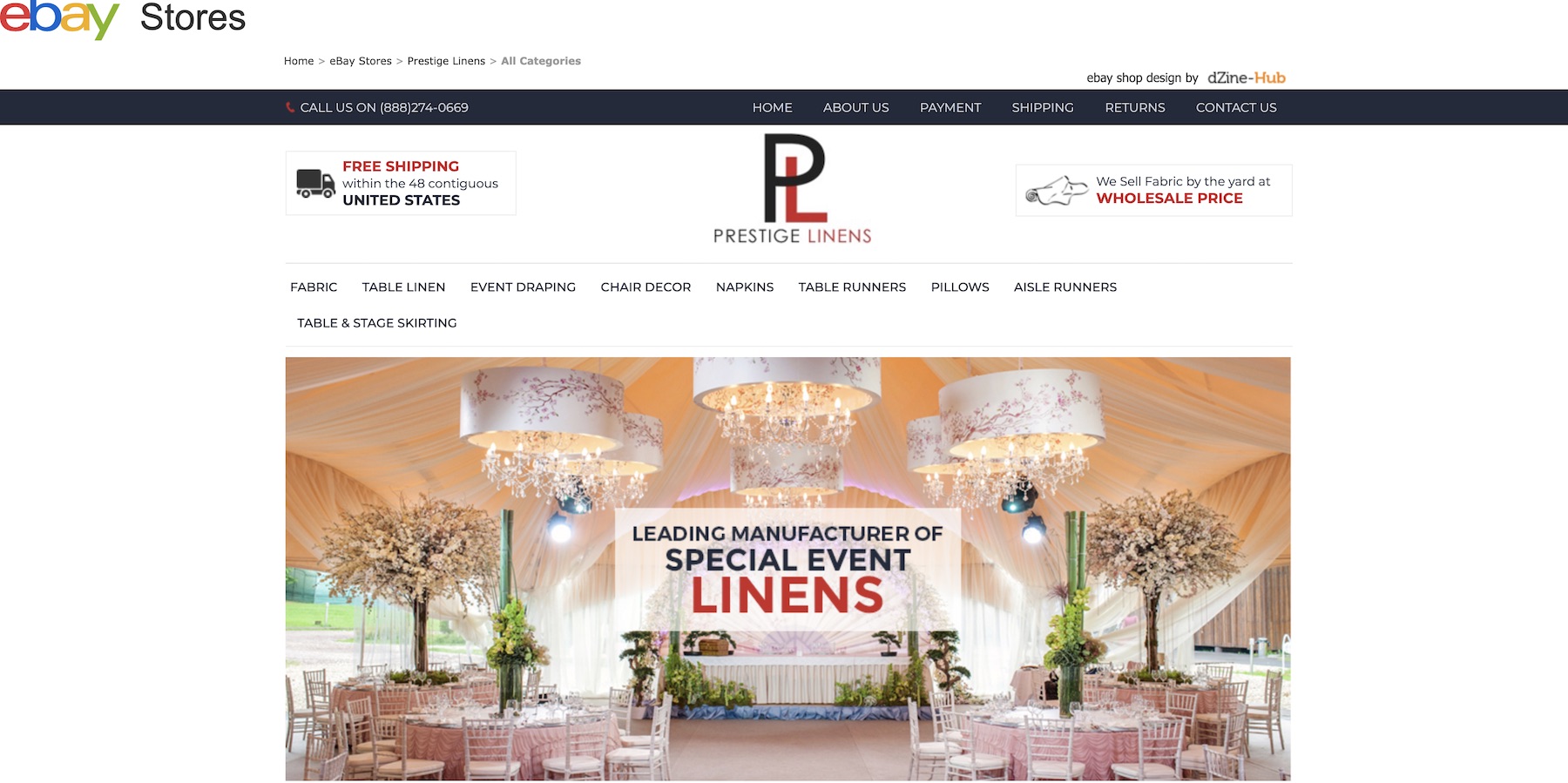 Boasting of a decade's experience in the linen manufacturing business and thousands of customers across the world, Prestige Linens have established themselves as the one stop destination for special event linens. They manufacture and market anything linen including curtains, table cloths, napkins, runners, sashes, skirting, overlays etc.
Not only do they have a mind-boggling range of fabrics and colours, they also offer customisable options and cutting/sewing services.
This was the second time we were working with David Yousif of Prestige Linens. Dave wanted us to come up with a brand new design for their eBay store.
The Challenge – An eBay Store Home Page cannot be Ordinary!
An eBay store home page is important! You don't get a second chance to make a good first impression!
Prestige Linen's eBay store looked ordinary. It was functional but didn't communicate what their brand was all about. We decided that their design needed a complete overhaul and that the look and feel of the page needed to reflect exclusivity, class and quality.
We wanted to put them where they belong – Head and Shoulders above the rest.
Here is how we did it!
Highlighting unique products and services: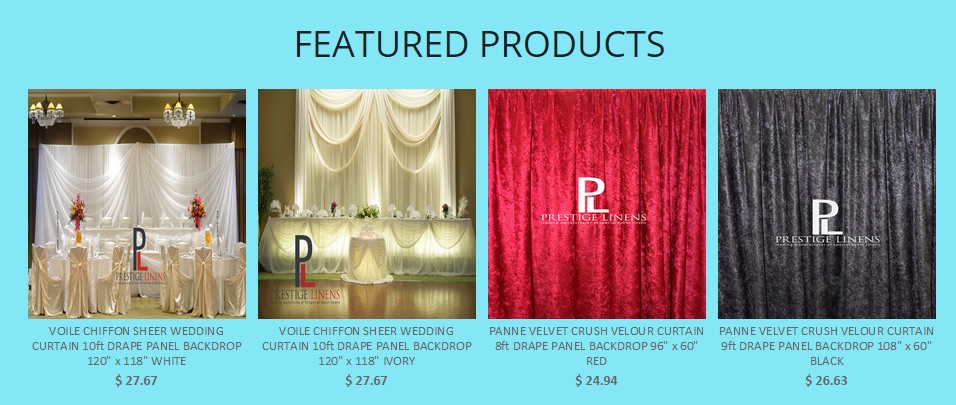 Prestige Linens offer unique products and features that nobody else does. Why not highlight that? We suggested they put their attractive features on the prominent part of their page. The offer of "Free Delivery" is enticing and stands out well on the home page's corner.
We also decided on a subtle yet arresting design for their featured products page, that showcases the best products in their vast inventory.
Customers don't have to waste time browsing and can select the kind of products they are interested in. They can easily glance through the Featured Products, shown below
A great way to showcase Store categories!

When a store has such a wide range, why keep it ordinary and predictable, like other eBay stores?
We came up with never before seen, "cooler" options for their store categories. We used special icons and design techniques to bring out the exclusivity factor. A customer is able to spot the category he/she wants by just scrolling through instead of searching. After all, a picture is worth a thousand words!
Not only was our template design unique and eye-catching, it did a perfect job of communicating the diversity, range and extent of their products along with Prestige Linen's innovative spirit!
A horizontal menu featuring select products: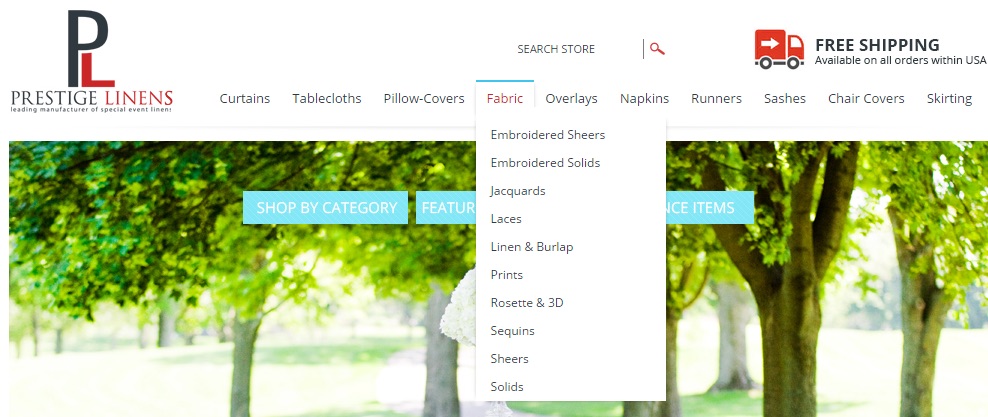 Instead of displaying all products on the regular product menu on the left side of the page (like everyone else), we helped Prestige Linens showcase their "one of a kind" products within the reach of a drop down on the landing page. This showcases their range and offers good user experience.
A customer doesn't have to scroll to the featured products category at the bottom of the page nor browse in the listing page. In a simple drop down, a comprehensive collection can be viewed and accessed immediately. Isn't that much simpler?
Mobile Responsive Template:
After we customised Prestige Linen's eBay store design, we were concerned that tech-savvy, customers might find the listings difficult to navigate
With 60% of eBay shoppers, using hand-held devices, we just had to make their listings mobile responsive.
Our mobile responsive template makes sure that their store page and products are clearly visible across all platforms, devices and configurations and that their images, links and featured products are highlighted and can be accessed through touch navigation.
This ensures a good user-experience and therefore more conversions and lesser page abandonment.
And then…!
Well, enough of us talking…! Take a look at their eBay Store to see the difference it is making to their daily business.
"We at Dzine-hub were thrilled that we were able to come up with an eBay design template that fired on all cylinders and summed up what their business was all about. Not only did we make their store more accessible and convenient, we ensured that the design is everything a good design should be – an extension of the brand!
If you think your eBay store design needs a makeover, look no further! Give us a call at 0161-408-3726 or drop us an email at sales@dzine-hub.com. We would love to hear from you.