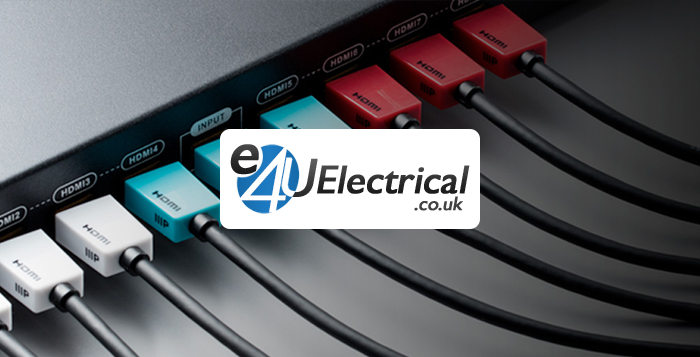 E4UElectricals is a family owned business supplying electrical goods and accessories. They have over 18 years of retail experience and have offices in England and Wales. They provide high-quality electrical supplies at competitive rates and are currently U.K's leading supplier electrical products.
E4U wanted a complete overhaul of their website's navigation on the latest version of Magento that is optimized for mobiles & tablets. The scrolling experience in their current site was bad and categories weren't grouped smartly. They needed a completely new look and better usability for their Magento website.
Multiple Language Options

E4U Electricals have a diverse customer base. Many of their customers speak different languages. Through the multiple language option custom feature, we made sure that E4U doesn't lose out on Non-English speakers. People who want to view the website content in another language, can easily do so with a simple drop down that instantly translates the entire store to the preferred language.
As a result E4U can reach out to a wider, global audience by making their store available to all.
Multiple Currency Options

A big seller's website with a wide, diverse audience, must be developed accordingly. A seller cannot afford to ignore the world market today.
With the multiple currency option, a buyer in Australia can view the items' prices in Australian Dollars and does not have to calculate the exchange rate to estimate how much an item will cost him in his currency.
This custom development automatically adjusts the rates everyday so that the prices correspond to the exact official currency exchange rates. The seller doesn't have to worry about updating the the correct currency value in the magento backend on a daily basis  and the buyer can be assured of the current conversion  amount (in his currency) a product would cost him at the time of purchase.
Reorganised Product page with re-prioritised items
E4U's previous product page, had the product description on the first fold of the page, followed by the product price, availability and "Add to cart" options.
We reorganised this arrangement keeping in mind the best way to engage a customer.  We highlighted the more important information on the first fold as this is more relevant to the customer. We moved the product description and other supporting information below, so that an interested visitor can read further if interested.
Cart Page Revamp with "Estimate Shipping" Option
In any store, the cart and checkout pages are extremely important as most page abandonment happens here. We wanted to maximise E4U's conversions and reduce the bounce rate in these pages.
We revamped the entire cart page and added an "Estimate Shipping" option. This will inform the buyer about the shipping policies and rules even before he moves to the checkout page. It is bad user experience to find out that the company does not ship to your area in the final checkout stage. It is better to display this important information in the cart page itself so that the buyer knows exactly what he is getting.
This cart page revamp with the "estimate shipping" option provided E4U's customers with an intelligent shopping experience that is quick, easy, thereby increasing the possibility of conversions!
Mobile and Tablet Responsive
More than 50% of all ecommerce traffic today is from mobile devices. More people are shopping on the go than ever before. It is absolutely imperative online sellers reach out to a wider market and give their customers a pleasant mobile shopping experience or else there will be more page abandonment and lesser conversions.
We made E4U Electrical's Magento website mobile and tablet compatible. Through this, not only is their website compatible with any device, platform and configuration in the world, their customers are assured of a quick and easy shopping experience from start to finish. Whether it is a visitor browsing the site or a customer making a purchase, anyone is able to view product images, check relevant product information and select without having to pinch, scroll or zoom extensively. Images and important information and tabs are displayed prominently to enhance the shopping experience.  
If you want a Magento store with smart navigation options that leads to reduced bounce rates and more traffic, we would love to work with you. Call us at +44 (161) 408- 3726 (UK)  or drop us a line at sales@dzine-hub.com We would love to hear from you.