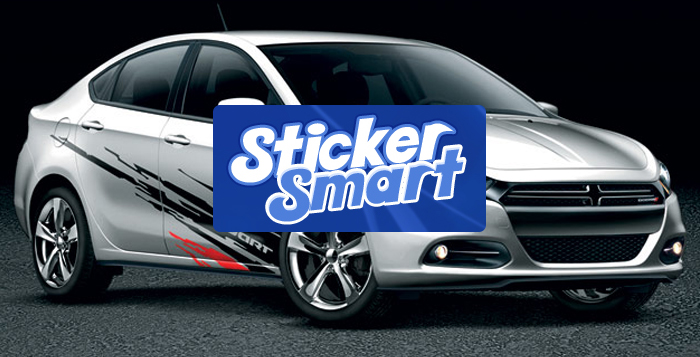 Sticker Smart is an Australian  based retailer specialising in a wide range of decals and stickers. For the past 10 years, Sticker Smart has been supplying customers across Australia with customisable stickers for cars, wall art etc and use high quality ink and vinyl.
Daniel from Sticker smart wanted his company's eBay store to give customers a better shopping experience by showcasing its products better. We had to come up with intelligent navigation options for Sticker Smart and also design their eBay store and listing template to match their company's branding.
This is what we did…
A horizontal menu for quick and easy navigation
It is a good practice to enable a visitor access all categories easily without having to scroll and click. You must focus on getting the customer all possible information he/she is looking for in the shortest span of time.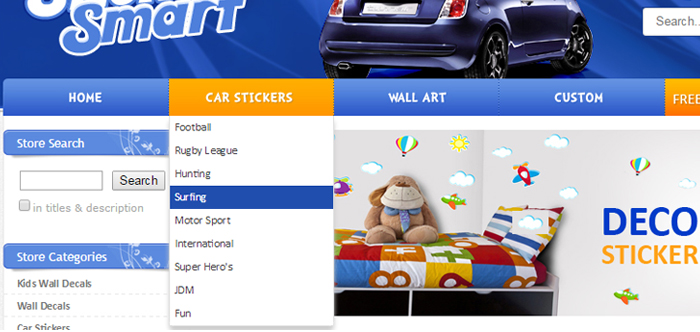 Considering Sticker Smart's numerous categories, we didn't want customers to spend time searching for a sub-category. The horizontal menu displays store categories and further displays the 2nd level categories when you just hover over it. This way, a customer can get an idea of the whole range of products displayed, by just hovering over various categories.
It also helps buyers by enabling them to get directly to the sub-category that they are interested in.
A rotating banner slider for attention grabbing business policies and features

When a business offers unique product and services, it must be displayed in a prominent location on the eBay store home page.
The home page of the eBay store must tell a visitor what the business specialises in and what enticing offers and promotions they offer. By displaying sticker smart's policies such as "Free Postage Australia Wide" and attractive images of their best products, we made sure that we highlight Sticker Smart's product range and business policies to a store visitor and tell him/her in a glance what the business is all about!
We enjoyed working with Sticker Smart and making their eBay store more eye catching and navigable. What did they think?…
This is what they had to say…
"Contacted dZine-Hub on the recommendation of a friend and was very surprised at how easy the process was even though we are in different countries. I was very impressed with the service and professionalism of both Hamid and Fahd and would absolutely have no problem using them for future projects or recommending them to colleagues. Thanks for helping us start up guys!"

– Daniel Rosadi, Sticker Smart
Read the full review on Webretailer here…!
If you want to establish your eBay presence with a well designed, impressive eBay store design and boost traffic, increase sales, Give us a call at +44 (161) 408- 3726 (UK) or drop us a line at sales@dzine-hub.com We would love to hear from you.