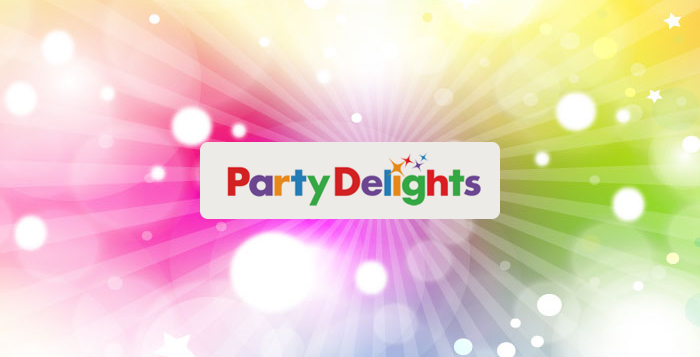 Party Delights is a UK based company that offers everything party related! From cards and invitations to fancy dress and tableware. They commenced operations in 2001 and now run a 35,000 sq.ft. warehouse in Manchester. For the past 2 years, they have an active eBay store with over 3000 items across 40 categories!
When Helen Lucy from Party Delights contacted us to design their eBay store, we were eager to come up with an eBay store design that reflected the upbeat attitude of the company and made their store navigation easy as well
Displaying the eBay store's best with a rotating banner slider
So the best are not missed!
Party delights has several seasonal offers, new games, holiday themed accessories and so on. Appropriately placed images and text highlighting these attractive features, works to attract a customer. This is exactly what we did with the rotating banner slider.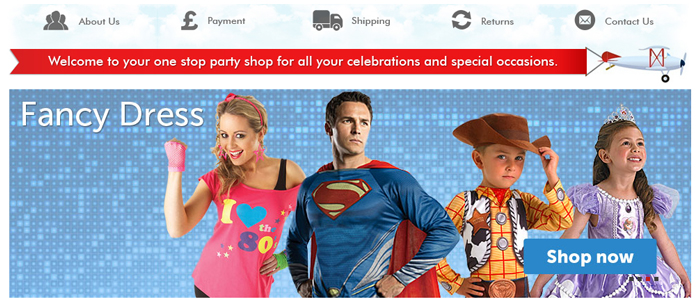 Party delights were also able to display their attractive selling points and unique products on their ebay store home page in a noticeable way.
Automatic updates to the listings with dynamic categories
No extra work for the seller!
Sellers with constantly changing store categories have to spend a great deal of time and effort in manually updating each and every listing with a complex HTML code. We want sellers to be free of this worry.
We enabled our dynamic categories module and made sure that any change made to an eBay store category is automatically updated in the active listings. This way the Party Delights do not have to worry about any manual updates.
Channel Advisor customised Listing Template
Like many eBay sellers, Party Delights use the seller tool Channel Advisor to manage their eBay store without having to log in to eBay every time.
We customised our listing template to Channel Advisor by adding custom tags. This means that the seller doesn't have to edit the HTML manually. He can just choose the available dZine-hub template from a drop down in Channel Advisor to apply our design across all their listings in just a click!
We enjoyed working with Party Delights to establish their online presence through their eBay store.
This is what they had to say about working with us!
"I have worked with D-Zine Hub on a number of eBay store designs before, so when I joined Party Delights to launch their eBay store there was only one company I was going to contact. Fahd and his team are very experienced and knowledgeable in this area. Their designs are always crisp, clean and easy to navigate. The turnaround from design to live is always very quick and the team are always available if you have any issues or queries. Overall I am very happy with the shop design and listing template. Always a pleasure to work with these guys."

 – Helen Lucy, Party Delights, U.K.
If you want to give your eBay store that quirky edge or if you want to boost sales through a well designed eBay store, we would love to help you out! Give us a call at +44 (161) 408- 3726 (UK) or drop us a line at sales@dzine-hub.com We would love to hear from you!