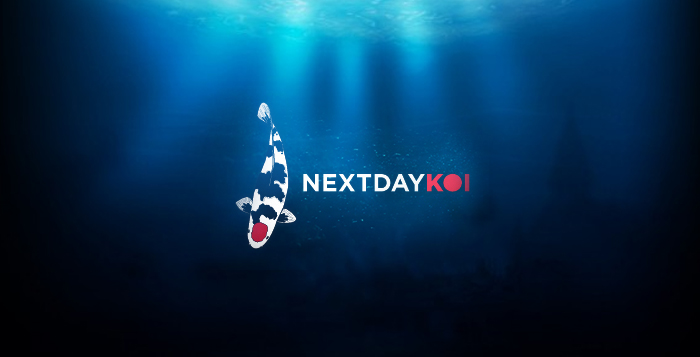 Next Day Koi is a leading supplier of American-bred butterfly Koi fish for more than 20 years through several retail outlets across the US. They have an eBay store since 2006, catering to avid collectors and enthusiasts.
When Joshua from Next day Koi contacted us, requesting a revamp of their eBay store design, we had to come up with a design that retained their identity and at same time reflect their accomplishments with a professional layout.
This is what we did…
Horizontal Menu for an easier shopping experience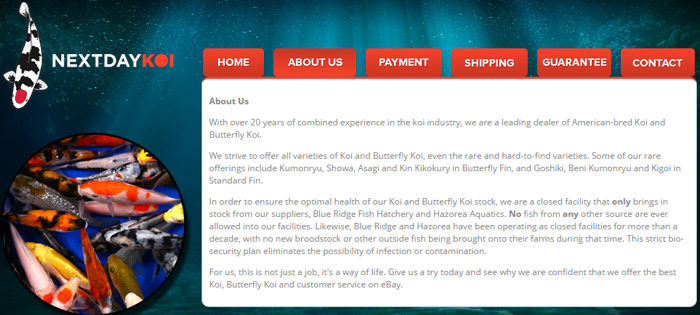 To minimise clicks on the site, we decided to make the shopping easier by displaying a horizontal menu to feature more categories and also to make reading each section easier. Customer don't have to click on each to tab to view the contents of it. All they have to do is hover over it and read the contents that are instantly displayed.
Rotating Banner Slider to highlight the store's best products and policies
Attractive policies and features of a company such as "Overnight delivery", "14 Guarantee", are best displayed noticeably on the ebay store home page. They serve to highlight the unique traits of the company and at the same time attract customers with these deals and offers.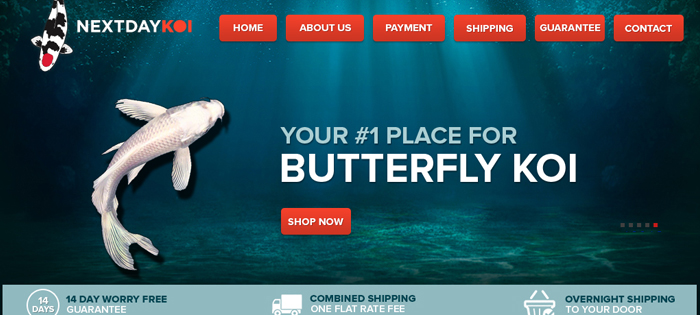 Mobile Compatible listings for the modern shopper
We can't insist enough on how popular mobile technology is today. 60% of eBay sales are from hand-held devices and the number is only expected to go up. We had to make sure Next Day Koi's eBay store is up to date with the latest in eCommerce technology.
We made all their listings mobile responsive.

With this, we ensure that while the full version is available on a desktop, only a stripped down, essentials-only version is available on mobile devices so that the space doesn't become too cluttered. Only relevant information in large font size is displayed along with big product images so that a buyer can easily browse in one scroll/swipe.
Garage Sale customised listing template
Many eBay sellers use seller tools that help them manage their eBay store without having to log in to eBay every time.  Next day Koi uses Garage Sale.
We customised our listing template to Garage Sale by adding custom tags. This means that Next day Koi don't have to edit the HTML manually. They just need to choose the available dZine-hub template from the drop down in Garage Sale and apply our design across all their listings in just a click!
We enjoyed our project with Next Day Koi and were happy that we were able to reflect their branding with an appropriately designed eBay store
If you are thinking of increasing your eBay sales and want a new eBay store design to help you get there, We would love to help you! Give us a call at +44 (161) 408- 3726 (UK) or drop us a line at sales@dzine-hub.com We would love to hear from you