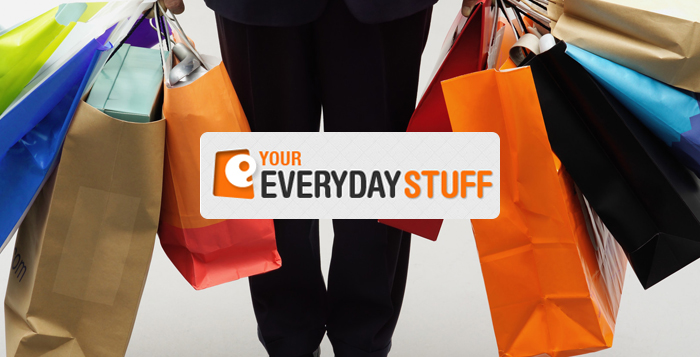 YourEverydayStuff is a U.K based company that has something for everyone. From home supplies to office equipment, from children's products to kids, backyard and kitchen supplies. Their vast product range has over 2400 items across 180 categories and their eBay store has garnered a 80,000+ positive customer feedback score since 2008!
Jonathan from YourEverydayStuff, wanted us to come up with an eBay store design that could reflect their brand image and highlight their best selling products and deals in an attractive way.
This is how we did it…
Highlighting the eBay store's best offers with a rotating banner slider

Your everyday stuff has a wide product range in each category and several unique items. With a rotating banner slider that appears on the eBay store's home page as a slideshow, we were able to highlight the store's best products and deals and let customers know what the store offers and also display the store's impressive and unique range of products.
Dynamic Categories to make the seller's life easier
Every time an eBay store category is added, deleted or modified, the seller has to update the HTML code in the eBay listings, to include the new store category. When more and more eBay store categories are modified regularly, the seller has to spend several hours grappling with HTML code in all his listings.
We sidestepped this problem completely by setting up the dynamic categories module for "Your Everyday Stuff".
No more manual updates! The seller doesn't have to worry every time he changes an eBay store category. With our Dynamic categories module, the changes made to the store categories automatically reflect in all active listings, the same instant it is changed in the eBay store settings section.
Effortless navigation with a horizontal menu

An eBay store with many product categories and particular specifications, must have good category navigation. Visitors cannot be expected to click many times to go to the subcategory they want.
With our horizontal menu, we made sure that a visitor can go directly to a subcategory by just hovering over it and clicking once! Through the menu, 2nd level categories are opened up, making for quick shopping with less clicking!
Related items widget to boost sales
When a customer is buying a product, it is a good sales strategy to display related items from the same category that the customer could be interested in.
This way, not only does the eBay store maximise its sales potential, it also guides the customer to let him/her know what other products are available!
Mobile responsive listings for a mobile world!
There are going to be 6.1 billion smartphone users by the year 2020!
A huge segment of these users are mobile shoppers and more and more eBay sales are made on the go (60% of eBay sales are through hand-held devices).
Mobile Optimised listing for an eBay store is the way to go forward!
Customers find it difficult to browse and shop on an eBay store if the listings aren't mobile friendly. The listing page shrinks to fit on the device and the text and images compress together, leading to a bad shopping experience.

The mobile optimized listing template for YourEverydayStore.
While retaining the full version of the eBay template for the desktop version, the mobile friendly version gives the customer a stripped down version of the listings and only the relevant product information is displayed in easily readable font size with large images that are viewable in one scroll/swipe. What's more? These listings are accessible on any mobile browser or eBay app, thereby covering a larger target audience and increasing potential sales.
Listing template customised for Channel Advisor
Most eBay sellers prefer using seller tools to manage their eBay business, instead of logging in to eBay every time. YourEverydayStuff uses Channel Advisor to manage their eBay store.
We made sure that our listing template was customised for Channel Advisor and installed it in its custom templates section. This way, the seller can continue using Channel Advisor and all they had to do was choose dzine-hub's eBay listing template from the template options.
Instantly all their 2400+ items had our new listing template design on them!
We enjoyed our project with your everyday stuff, exploring different ways to improve their eBay store presence with a unique design.
If you want to give your eBay store a complete design overhaul and increase traffic to your store, we would like to work with you. Give us a call at +44 (161) 408- 3726 (UK) or drop us a line at sales@dzine-hub.com We would love to hear from you.