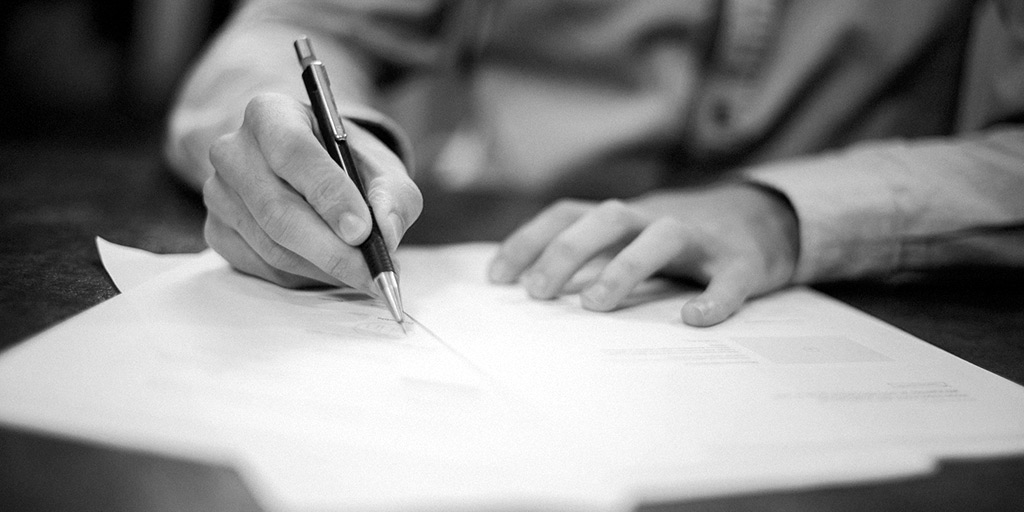 Take a look at your inbox right now. How many bog-standard responses or templated emails are in there?
Probably several, right? Now consider how you usually react to them; do they make you feel that the sender is interested in you, or that they're simply performing a perfunctory task?
As an eBay seller, you're sending out messages to customers daily so it is important that you pay attention to how those emails make you feel. The goal for any seller is to encourage customers to come back. A key reason why a customer will come back is engagement.
You have the opportunity to truly engage with the customer beyond the standard email response and do a bit more to demonstrate to the customer that you're prepared to make an effort. Forget the boilerplate email – here are some tips for personalising your communications:
What could you say on your emails? Get our template ideas here
Automated Emails
eBay automatically sends out messages to your customers at different points of the transaction. You could choose to stick with the standard templates but the good news is, if you want to be more engaging with the customer you can choose to customise those emails.
Here are the automated emails you should be looking at;
The buyer wins an item
The buyer completes checkout
If the buyer hasn't paid after a couple of days
If the buyer's order is updated with shipping information
If the buyer hasn't left feedback after about a month
"Buyer Wins" Email
Any eBay seller can customise the "buyer wins" email via the "Manage Communication with Buyers" area of your account. Click the "buyer wins" email and then click "add a message" to go to the form page where you can customise it. How should you make the email a bit more personal? Here are a few ideas:
Add your business logo or eBay store header at the top of the email. (Hey, you're probably not the only seller they're buying from- branding is important!).
Add a typed message in the text box that shows a bit more personality and is relevant to your business (rather than the standard "now you need to pay the seller" message). For example; "Thank you for buying from Steampunk Vintage, we hope you love this hand-crafted product! The next step is to pay for your item by following the instructions below."
Add a little bit of extra information about your business, for example if there is a story behind it. "Your purchase directly helps makers in X village." Perhaps include a link to your "about me" page if there is a lengthier story to tell.
Keep the auto-inserted transaction data so that it's clear to the buyer what the email is for.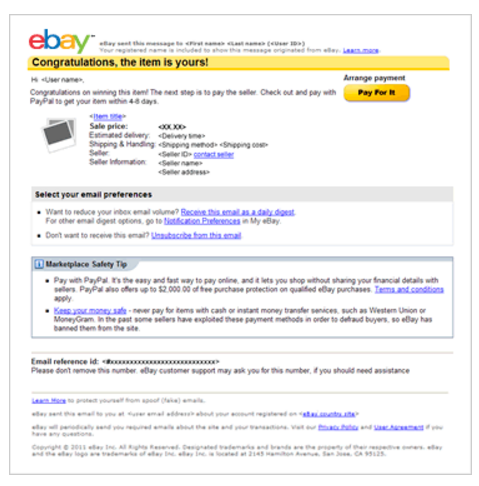 Other Emails
The other automated emails on the list can be customised; however, you need to have a "Selling Manager Pro" account with eBay to do so. If you have this type of account and can customise, then do it. Personalising helps you stand out from every other seller and is a good way to avoid sounding "wooden" in emails.
The first email on the list is your order confirmation email. Don't underestimate the value of this email to customers – when we purchase something online, we like to be certain that our order has been received correctly and is being actioned!
Think about how you will engender trust with your customers via the confirmation email. This is another important consideration because there have been known phishing scams involving fake confirmation emails, not to mention scam eBay sellers. Again, customising with branding and store information will help with this, along with including some information on when the purchase will ship. You might also like to remind them to come back and review you once they've received their purchase.
Here are a few quick tips for the remaining automated emails:
Shipping update – Emphasise your goal to provide excellent service and let them know how they can contact you if they have any queries.
When the buyer hasn't paid – Try the "just checking in" tone first, rather than heading straight for the big stick. Emphasise the benefits of the item they have won.
When the buyer hasn't left feedback – Again, try "checking in" and showing your unique brand personality. Explain how reviews help you to know how you're doing and provide them with quick links to leave a review.
If there is one underlying tip for all of these emails, it's really about deciding on how you will uniquely brand yourself and letting that shine through in your communications (in your eBay store, too). There are literally thousands of other sellers, so "voice" is one way to differentiate yourself and be memorable to the customer.
Your Email List
Have you been building an email list yet? Email marketing is still an effective way of bringing in more business, particularly if you can get targeting and personalisation right. You might choose to build your list through an opt-in on a separate website you create, but eBay provides you with the tools to set up list building, too.
If you go to "Marketing Tools" under your eBay account, you will see an option called "Email Marketing", this is where you can create a button for your store to get email sign ups. You are already set up with one button called "General Interest" (which you might want to rename) and can add up to four other lists. This is a good way to split lists by interest, particularly if you sell different categories of items.
Creating different lists for different interests also gives you a good way to segment your email audience so that you're sending information that is interesting and relevant to the people on the list. You might announce new products, promotions or even just information of interest to people. A regular newsletter is a good way to help build your relationship with signups.
eBay doesn't have the more sophisticated methods for segmenting your email lists like tools such as Mailchimp. So, why not set up both? It's a good idea to increase your online presence by having a website anyway, so you could take advantage of segmenting techniques that way.
It's not always easy to build your email list, so the other thing you can do is use Zapier's integration with Paypal to create new email contacts from sales through Paypal. If you're using one of the many email providers (Mailchimp, Constant Contact, Get Response etc) that also integrate with Zapier, you can automate your list-building that way.
Other Customer Interactions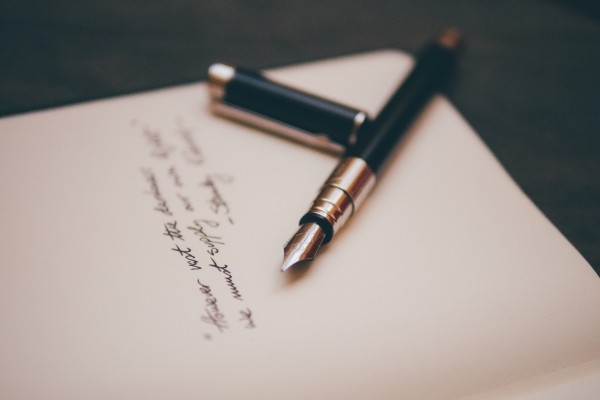 While we're discussing customer interactions, it's worth mentioning the opportunities you have outside of email to personalise communication and add an extra level of interest for the customer.
The big opportunity here is the actual package you send to the customer. Unlike email, this is always going to be opened so it's a good place to include a thank you note.
Some sellers like to take the handwritten route, with a quick note to each customer, but this might not be practical for you if you have a large volume of sales. At the very least, you could include a pre-printed postcard that thanks customers, has your branding and reminds them where to go to leave a review.
This is an opportunity for you to further promote your brand and encourage repeat business. If you've ordered online and received a relatively anonymous package that contains nothing more than the goods you ordered you'll understand this. Half the time you probably can't remember where you ordered it from! Include information that reminds the customer how to get back to ordering from you again.
How should you customise emails? Get our template ideas here
Final Thoughts
Personalising your eBay communications isn't just a "nice thing to do", it's a prudent strategy if you want to attract the attention of your buyers, distinguish your brand and keep them coming back.
While eBay has several emails that are automated, you can personalise them in your account settings, although some require a pro account. The point is that you should take the opportunity to personalise where you can – how are you distinct from competitors?
Personalising helps you to better target the right kind of audience and be of interest to them. Try this with a regular newsletter too. Email marketing can be very effective when well-targeted. What will you do to make your brand memorable and recognisable?